If you're shopping for insurance, you already know how wildly premiums can vary. But do you know which factors can affect that final insurance quote? Many of these factors are out of your control. However, there are a few on which you can make a positive impact. You may be surprised to find out that one of these factors could be your credit score.
What determines your credit score?
Most people know that late payments will impact their credit poorly. A lot more than that goes into calculating your credit score. Credit bureaus look at your credit management skills from a few different angles to decide whether you've been using credit responsibly and what score between 300 and 900 best represents the way you manage credit.
Payment history
Your payment history is a major factor in your credit score. Lenders want to know whether you have a history of making your payments on time.
Available credit
A credit bureau takes into account how close you are to your credit limit or if you tend to spend over your limit.
Credit history
The total amount of time you've been using credit will also be considered. For instance, if you are young or new to Canada, you may not have much credit history yet.
Public records
This refers to any record of bankruptcy or insolvency that might make you a risk to lenders.
Inquiry
If a lender or company requests to check your credit, the request is recorded and may affect your credit score.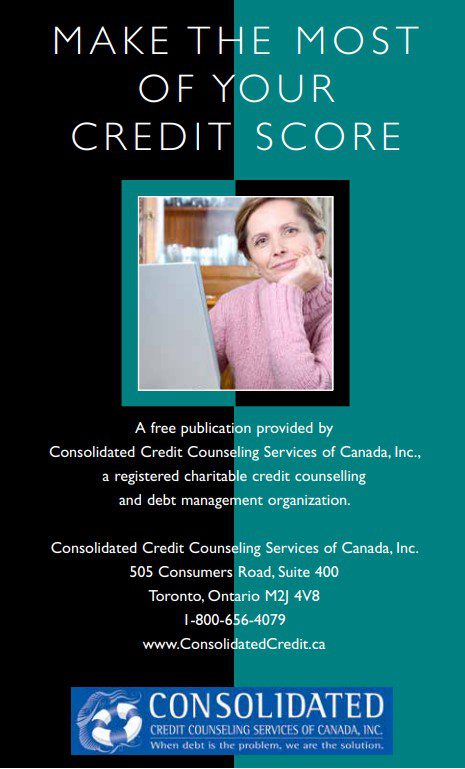 Make the Most of Your Credit Score
This publication is designed to demystify the credit scoring process. Credit scores can change frequently as information is updated in credit reports. Lenders may use different credit scoring formulas that are customized for their loan products. Additionally, this booklet has been formatted as an animated online interactive module that includes participant testing.
How do insurers get your credit score?
There are two main credit bureaus in Canada, Equifax and TransUnion. They are both private companies that collect information about how we manage credit.
If an insurer asks your permission to access your credit report, they are referring to the report made by one of these companies. If you consent, they will be able to access your credit information. Most Canadian provinces require written consent to access your credit report. However, in Nova Scotia, Prince Edward Island and Saskatchewan, businesses and individuals are only required to inform you of the credit check.
Why do insurers care about your credit score?
Insurance companies argue that there is a correlation between clients who show financial responsibility and clients who prove to be low risk. So, if a client has a high credit score, they will be deemed less likely to make frequent or serious claims and may receive a lower premium.
Can you get insurance with a bad credit score?
Yes, you should be able to find coverage no matter what your credit looks like. The Insurance Bureau of Canada has established a voluntary Code of Conduct that prohibits insurance companies from cancelling or denying insurance because of a poor credit score. However, while they can't deny or cancel your coverage, some insurance companies might try to justify a higher rate. If you feel that you have a negative credit score or lack of credit history because of extraordinary life circumstances, the Code of Conduct encourages insurers to take this into account – so long as you ask.
How does your credit score influence your insurance rate?
How your credit score influences your insurance quote might depend on where you live. For instance, Newfoundland and Labrador and Ontario have prohibited any auto insurance company from using a credit score to determine your car insurance premium. However, in other provinces, a lower credit score could mean a higher premium.
How do insurance payments influence your credit score?
Generally speaking, making insurance payments won't help you build credit. But if you fail to make an insurance payment, your account could be sent to a collections agency, which would negatively impact your credit.
Can you refuse a credit score check?
Under most circumstances, your need to give your consent to perform a credit check. However, you have the right to refuse. However, depending on the regulations where you live, it could affect your premium.
Do insurance inquiries hurt your credit score?
No, when insurance companies check credit scores, it does not have an impact on your report.
There are two types of credit inquiries:
Soft credit check
A soft inquiry occurs anytime an individual or a business performs a credit check in which you are not actively seeking credit. This type of credit check will not impact your credit score.
Hard credit check
On the other hand, when you want to acquire credit (e.g. applying for a new credit card), a hard credit check is performed. Too many hard inquiries can hurt your credit rating.
Summary
Whether you are shopping for home insurance, auto insurance or even life insurance, it's important to know whether your credit score will have an impact on the way your home, life or car insurance premium is priced. You can get a free copy of your credit information from TransUnion and Equifax. So you can check your credit score and stay informed while shopping for insurance.
If you worry that poor credit will make it difficult for you to get insurance, talk to one of our credit counsellors today.
We can help you rebuild your credit score. Contact our financial experts today.