Community Outreach
Consolidated Credit brings financial literacy into communities across the country
Consolidated Credit Canada invests significant resources and countless hours providing free community outreach programs on financial literacy and debt management in communities across Canada.
Our educational and engaging workshops take place as either face-to-face, in-classroom seminars, or via the Internet through webinars. We work with hundreds of companies, community groups, employee assistance program providers, schools, all levels of government, the Canadian Forces, and non-profit organizations who have identified financial stress as a key component of their employees' and members' overall health and productivity.
Additionally we work with our community partners to provide online money management tools and resources to their members through our online financial wellness platform, K.O.F.E. (Knowledge of Financial Education). KOFE offers a user-friendly and versatile experience for learning about a variety of financial topics in both English and French. This includes a guided budgeting tool, interactive courses, and access to our KOFE coaches for help and guidance. Learn more at www.kofetime.ca.
Ready to connect now? Email [email protected] or call (844) 325-9473 and ask our team about our educational resources.
Consolidated Credit educates consumers on the importance of good money management for today and the future. As a result, attendees learn about financial tools and skills in groups or individually to live debt free and financially independent. Furthermore, these educational initiatives have taken root in many organizations across the country. The response to the resources available has grown exponentially. That's why we take a dynamic approach to educating Canadians through seminars, webinars, one on one face-to-face meetings, distribution of our specially designed booklets on financial literacy, and our KOFE platform. Clearly, we're driven to put personal finance tools in the hands of people across Canada.
Consolidated Credit's goal is to make this free, personal financial education and counselling available to those who may otherwise not have access. In addition, we strive to educate employers about the value of having budget-conscious, financially savvy, and confident employees. As research has shown, an employee stressing about debt and their family's finances is more likely to be distracted causing them to be unproductive, or worse yet, accident prone in the workplace – and that's where Consolidated Credit and KOFE can help. Our educational materials are available in common office areas, such as break and lunch rooms across the country, and online through an employer's human resources and organizational development sites.
We are also committed to inspiring responsible money management through our scholarships and awards. In addition to the Consolidated Credit Canada Scholarship Program, in 2018, we established the Consolidated Credit Financial Empowerment Award at Seneca College — a $2,500 award for a non-graduating student with a GPA of 3.0 or higher, who demonstrates the impact the support will have on their educational career through responsible money management.
Here's what people have to say about Consolidated Credit's Community Outreach Seminars:
Our participants have stated the information learned has been invaluable, teaching them how to address their debts one at a time and helping to resolve them. Although people attending the workshops are experiencing extreme financial stress, they quickly feel at ease.

Christene R – Employment Services Supervisor, Simcoe, ON
---
A majority of our clientele are individuals who are currently homeless or at risk of being homeless. Moreover, most have a very limited budget, no credit, and don't understand the basics and importance of a proper budget. Since 2012, Consolidated Credit runs 18 different seminars throughout the year for our program and the feedback from the clients is that they have learned a lot and now understand the importance of budgeting.

Ray R – Employment Manager, Newmarket, ON
---
Our youth participants have benefited tremendously from the sessions conducted by Consolidated Credit. As a result, their levels of awareness regarding money management, identity theft, credit and credit ratings naturally increase. Of course, we are grateful for this partnership and we have been recommending your services to other community-based groups.

Lance W – Program Administrator, Scarborough, ON
---
Our employees were very appreciative of the objective information. As such, information for the sole purpose of education, without the sales pitch at the end that can often come with a financial education presentation.

Robyn B – Corporate Wellness Advisor, Winnipeg, MN
---
Robbie shared information relevant to our students and where the are at in life. As well as offered tools that they can use right away for Budgeting and Credit information. Surprisingly, the students were engaged and Robbie was very respectful and answered all questions without judgement. As a result, it was a pleasure having him and appreciate his style of delivering information.

Rita W – Placement Advisor, Humber College, Toronto, ON
---
Consolidated Credit's financial literacy workshops are some of the best we have seen. First of all, Robbie's presentations are always very informative, interactive, and clear. Secondly, our clients find the workshops very helpful in understanding financial topics that they used to find overwhelming or scary. The presentation keeps the participants' engaged and actively participating. Additionally, the information was simple and easy to digest, and Robbie made sure the information was understandable by doing pop quizzes and activities.

Vilda G
---
Thanks Consolidated Credit Counseling Services. Robbie, the presenter provided essential information to our clients and participants in an interactive and easy to understand manner. Participants were able to utilize resources, techniques and principles from the workshop and formulate their own action plans. Thank you Robbie and the agency for the great services 🙂

Amy Cheung – Life Success Strategies Facilitator, COSTI Immigrant Services
Anonymous participant feedback:
"Robbie Shifman has a great personality and made is easy and comfortable to participate and engage!! Great job!"
"I absolutely enjoyed Robbie's workshop about financial aids and services. He went exactly at everyone's pace and was super nice. He also seemed to be very knowledgeable and passionate about his work."
"Robbie's presentation was fantastic, grateful he took the time to put it together in an easily digestible way."
"Thank you, Robbie Shifman. It gave me the courage to connect with Consolidated Credit. I was scared and confused on how to talk about my issue. Still scared but empowered to better my future. Secondly, this webinar was amazingly done. I learned to reassess my spending especially this Xmas. I am feeling better knowing that numerous techniques. Thank you is just a small token of appreciation for Robbie and Consolidated Credit Canada's work."
"Robbie did an excellent presentation and I have learned a lot within that short amount of time. Thank you for being knowledgeable and clarifying things for us. I appreciate it and will apply the info to my life."
"It was an extremely professional presentation. There was no contempt for people in debt and there was plenty of encouragement to get on the right track."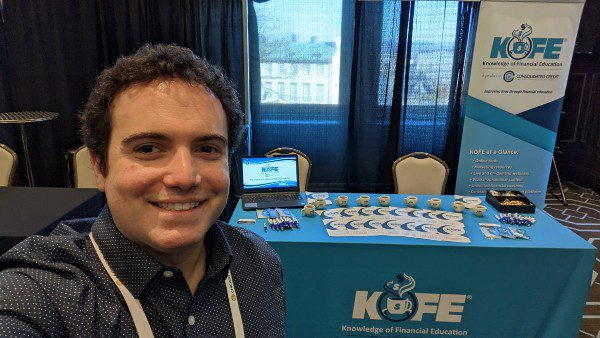 Feel free to directly connect with our team! We'd be pleased to continue our mission to help people in Canada with financial education and non-profit credit counselling support with your organization.
We would be happy to present our workshops on debt management and financial literacy to your employees, community group or at your corporate wellness event.
Contact us: [email protected] or (844) 325-9473