People experience many different, unexpected life events that affect their income. Job loss, unexpected medical diagnosis, family obligations, and economic downturn. The list goes on. Significant life events, like the ones stated above, make paying off debt difficult.
For example, the COVID-19 pandemic brought unanticipated, financial hardship to many of our UK friends. Due to the pandemic, about 3 million UK citizens are at risk of long-term debt issues.
A debt relief order (DRO) is a debt solution for residents of England, Wales, and Northern Ireland. DROs are great for people with minimal income and assets. Financial experts also consider DROs one of the quickest ways to become debt-free.
How Does a Debt Relief Order Work?
A debt relief order freezes all of your debts and interest for 12 months. During that period, you do not have to pay these debts. In addition, creditors cannot take legal action against you for your debts, or contact you.
If you gain more income during the course of your DRO, you must start paying some of the debt. In this case, an official receiver might even cancel your DRO.
If your financial situation doesn't change, your debts disappear. You won't have to pay any of it back.
What Debts Does a Debt Relief Order (DRO) Include?
You can't cover all of your debts in a debt relief order. Here's a list of debts that a debt relief order includes:
Credit card debt
Overdraft
Utility bills
Phone bills
Rent arrears
In-store credit agreements
Council tax
Benefit overpayments
Catalogues
Debts with HM Revenue & Customs, such as Income Tax or National Insurance Contributions.
You cannot include the following debts in a DRO:
Student loans
Confiscation orders
Magistrate's court fines
Child support arrears
Maintenance arrears
Social fund loans
For more information about debts included in a DRO, speak to a debt advisor. They will help you navigate the complexities of a DRO.
How Do You Apply for a Debt Relief Order?
Before filling out a DRO application, make sure you qualify first. Eligible applicants must meet the following criteria:
Less than £2,000 in assets.
Lived or worked in England, Northern Ireland, or Wales for the last three years.
No record of a previous debt relief order (DRO) in the last 6 years.
Not currently involved in other insolvency procedures. For example, bankruptcy or an individual voluntary arrangement (IVA).
Not a homeowner.
Less than £75 left each month after paying for regular, household expenses.
Combined, total debts under £30,000.
In England and Wales, the maximum debt you could have to be eligible for a DRO application was £20,000. In June 2021, the UK government adjusted the criteria to support people affected by the COVID-19 pandemic. They increased the maximum debt amount to £30,000. The government also increased the asset value limit to £2,000 (from £1,000) and the leftover income amount to £75 (from £50).
If you meet the above criteria and would like to apply for a debt relief order, here are the steps you should take:
Speak to an approved intermediary
To begin the DRO process, speak with an approved intermediary. The intermediary must hold valid registration in England, Wales or Northern Ireland. They will discuss your eligibility with you, and help you collect the paperwork to apply for a DRO. To find an approved intermediary or debt advisor, check the Citizens Advice website.
Pay the £90 fee
This is the fee that the Insolvency Service requires to process your application.
Wait for a decision
An official receiver will inform you of their decision within 10 days. Rejection letters include a rationale.
If accepted, your DRO appears on the Individual Insolvency Register
If your application is successful, the DRO will appear on the Individual Insolvency Register for three months. On this Register, any member of the public can view your DRO.
If rejected, you can appeal the decision
If you don't agree with the official receiver's decision, you have the right to appeal.
Pros and Cons of a Debt Relief Order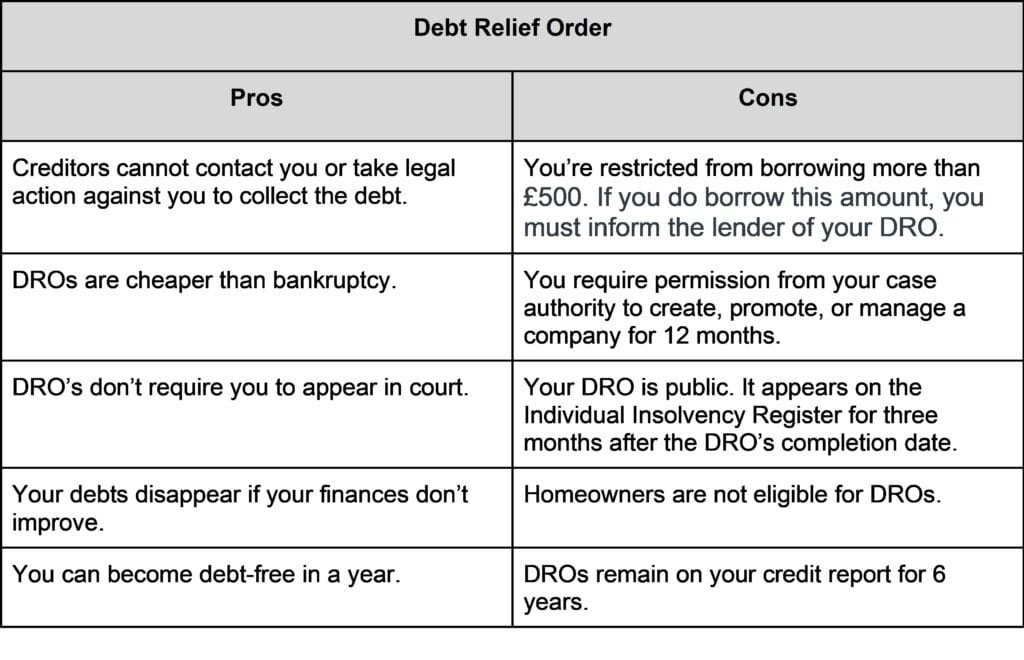 Does a Debt Relief Order Affect Your Credit Report?
Yes, a DRO stays on your credit report for 6 years. However, bankruptcy is a more severe option that stays on your credit report for a longer period of time. DROs are also cheaper than bankruptcy.
It won't be easy to access loans during those six years that your DRO remains on your credit report. Mortgages are out of the question unless you find an alternative lender. Even then, they might reject your application, or charge you exorbitant interest rates. With a DRO on your credit report, lenders perceive you as a higher risk. This is why it will be challenging to get a mortgage or other forms of financing. Banks won't likely approve you for any financial products apart from a basic bank account.
Bottom Line
Debt relief orders might work for certain people, depending on their financial scenario. People with low income and little assets might benefit from a DRO. However, the decision to proceed with a DRO depends on your unique circumstances.
If you're struggling with debt, speak to a credit counsellor today. Our skilled consultants offer relevant, up-to-date debt advice for any situation.