Canadians experienced drastic changes in their lifestyle, job scenario, mental and physical health, and finances throughout the COVID-19 pandemic. Entire industries have faced near-complete shutdowns. Airlines, restaurants, beauty shops, oil and gas companies, and the auto sector were all severely affected by the pandemic. Additionally, with the loss of 213,000 jobs just in January 2021, the Canadian economy took a big hit.
As a result of this economic downturn and COVID-19, businesses now embrace new ways to sell their products and services. Previously employed Canadians have become more entrepreneurial since they don't have job security. Consumers have altered their spending, borrowing, and saving habits as well. 
The Post Pandemic Economy and Consumer Spending in Canada
The pandemic changed the way Canadians spend their money, whether they have experienced a job loss or not. Canadians are forced to deal with smaller budgets due to job loss or reduced work hours. Canadians who maintained a job working from home may still have consistent income. However, the way they spend their money and the things they buy are different from before the pandemic.
Increase of Electronic funds transfer (EFT) (person to person, and person to business)
Consumers increased online shopping, with 63% of Canadians indicating digital channels as a key trigger for finding a new retailer. Not only have Canadians turned digital for seeking out shops, they also used digital sources to make payments. In April 2020 alone, Interac reported 61.3 million debit transactions, including electronic transfers (e-transfers).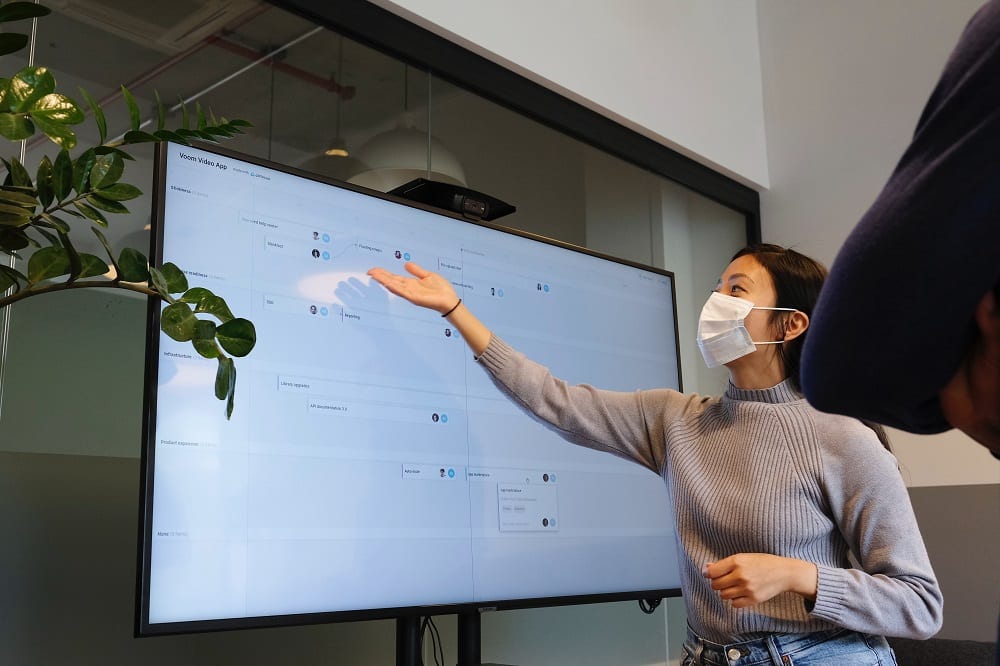 In the post-pandemic economy, individuals are adapting to a digital payment norm, and so are businesses. Canadian businesses, including restaurants and retailers, used EFTs for common transactions like accepting payments from clients and customers and paying suppliers and distributors.
There are a few reasons that explain Canadians' increased use of EFTs.
Tracking Spending: COVID-19 brought financial stress to many Canadians, and encouraged them to be more mindful with their purchases. Tracking spending through Interac payments makes it easier to keep an eye on where your money is going.
Location restrictions: Store closures have forced Canadians to do their shopping at home through various digital apps like UberEats, InstaCart, and Amazon. Most retailers experienced dramatic losses within in-store sales but increased sales through online shopping.
Supporting Family and Friends: Canadians are helping out friends and family financially due to the economic hit. The distance resulting from location restrictions also contributes to Canadians sending loved ones EFTs instead of bringing them cash or gifts.
Increase of digital spend over cash base
In April 2020, 52% of Canadians reported using debit for payments, and 62% reported using credit cards. Debit and credit were a significantly more popular choice than cash, with only 36% of Canadians reporting cash as their preferred payment type. Despite the ostensible favour towards card payments, the Bank of Canada's study reported that most Canadians (74%) do not have plans to go completely cashless.
Lately, however, many businesses have stopped accepting cash altogether to minimize the risk of COVID-19 transmission. Even before the pandemic, some stores already had cashless policies for environmental and security reasons. Tech companies like Amazon, Google and Apple were also setting the trend for digital payments over cash for many years, and have only gotten more popular throughout the pandemic.
Online Shopping out of Boredom
Canadians found more ways to budget and expressed a desire to keep better track of their finances throughout the pandemic. Unfortunately, it's easy to shop online when you're home and have nowhere to go. Online shopping sales soared by 99% because of COVID-19, pushing e-commerce sales to a record $3.9 billion in May of 2020. Even before the pandemic, online shopping was linked to easier impulse buying.
Post Covid-19 Debt Management
Similar to altered behaviour with spending and saving, COVID-19 had an effect on how people manage debt. The Canadian government has encouraged financial institutions to allow homeowners to defer mortgage payments.
E-transfers and Debit for Budgeting
Since COVID-19 has forced many Canadians to live with less money, people are finding ways to budget and track their spending. E-transfers, including between individuals and between individuals and businesses, allow consumers to see a record of each purchase they make.
This makes it easier to track spending. Most online banking platforms let consumers see how much they are spending at a certain place. Consumers can budget their rent, groceries and utilities by examining their e-transfers and debit payment history.
Another way to track your spending is through financial calculators. Consolidated Credit's free personal finance and debt calculators can help you keep your finances in check, buy less and save more. Various calculators assist with different aspects of your finances. For example, the Loan Calculator helps you map out your monthly loan payments, both principal and interest. The Debt-to-Income Ratio calculator helps you assess your overall financial stability. And the Simply Savings Calculator helps you compare different savings solutions to see where you can make the greatest return. Of course, debt calculators can help you manage debt, but they aren't always the sole solution. For more support, call Consolidated Credit Canada at (844) 859-3441.
Final Thoughts
Canadians are eager to make better financial decisions in the post-pandemic economy. Evidence suggests that financial assistance isn't all that's needed for economic recovery – improving mental health and wellness will be vital, especially for younger generations like Gen Z.
Despite the financial pressure COVID-19 has put on Canadians, there are resources available to help people take control of their finances. If you're a business struggling to recover from the pandemic, speak to one of Consolidated Credit Canada's consultants.