PeJay – Opening his eyes to a new debt solution
When 55-year-old PeJay became officially blind in 2001, his credit suffered as well.
The artist, painter, poet and sculptor, who has lived in The Okanagan Valley for the last 40 years, says a work accident caused his debt to spiral out of control.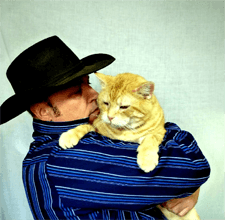 PeJay spent his 32-year career as a cook and head of maintenance in a museum, but in 2001, he was involved in an accident in the company vehicle. As a result, he had his eyesight checked, was informed that he was legally blind, and was forced to retire his driver's license. Over time his health and eyesight worsened, forcing PeJay, who also suffers from hydrocephalus, often called "water on the brain" to live off of a disability pension.
Though he always had debts, PeJay says it was "nothing he couldn't handle" until he could no longer work.
"On disability, I had no extra money to pay my credit card debts, so I just kept getting deeper and deeper into debt," he says. "Credit card companies only offered to help me by upping my spending limit, which didn't help at all."
By 2009, PeJay's debt had skyrocketed to $8,000 and was quickly growing. He was only able to pay interest charges while borrowing more to pay bills. Trying to make payments, keep up with interest, juggle calls from collection agencies, and make rent, all while on disability, proved to be impossible.
"I didn't even have money for food, necessities," he remembers. "I was at the end of my rope."
PeJay was so overwhelmed he even consulted a psychiatrist for the depression he experienced from his struggles. "It affected my social life, my relationships, my art as well. I couldn't afford art supplies. I never had a clear mind. I was always thinking about my debt, my creditors, the threats from collection agencies. It was taking its toll."
Knowing he was in over his head, PeJay took the initiative and tried to get help from the limited debt counselling options in his area…
"I contacted a few local places for debt counselling but was turned away," he says. "They said I was in so much debt that I couldn't even afford to make the payments they wanted. No one was willing to help me. No one offered me any advice. It was confusing and frustrating."
It was then that he heard an ad for Consolidated Credit on the radio…
"I was shocked when the woman on the other end said, 'Yep, we can help you.' My first reply was, 'Are you sure?'" he laughs. "It was a lifesaver. The timing was perfect."
Consolidated Credit Canada put him on a manageable monthly payment plan for four years, without declaring bankruptcy.
Today, PeJay is happily debt free.
"I can actually save money now. I can't imagine where I'd be without the help of Consolidated Credit. I can paint again. I can have tea or a treat with friends.
Consolidated Credit can help shine light on your budget
If you are currently in a situation where your life has taken an unexpected turn, forcing you to alter your plans, habits and behaviours, like PeJay seek help and find a debt solution. Let Consolidated Credit help you improve your overall financial outlook. Dial (844)-402-3073 to speak with a trained credit counsellor.