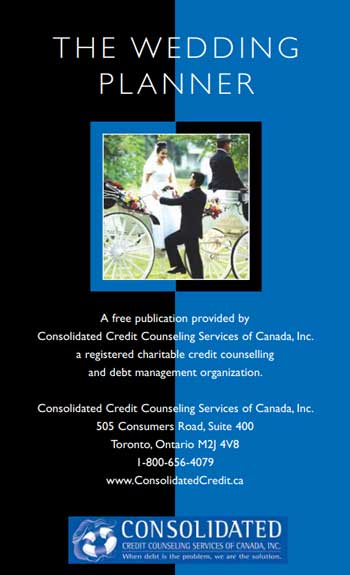 The Wedding Planner
This is the ultimate wedding savings guide. It helps the bride and groom decide what is really important when planning their ceremony, reception, and future. It provides the average cost of items nationally, so consumers can compare.
---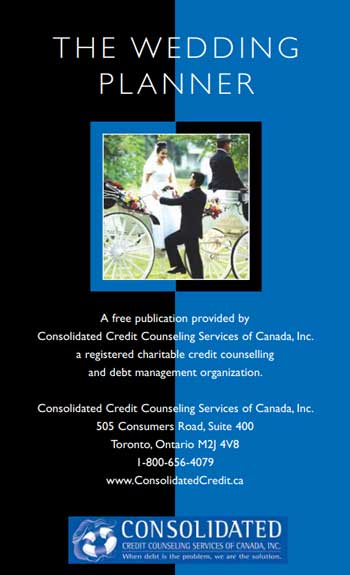 Congratulations on taking this important step to a brighter financial future. Consolidated Credit Canada has been helping Canadians across the country solve their credit and debt problems for years.
Our Educational Team has created over twenty-five publications to help you improve your personal finances. By logging onto www.consolidatedcreditcanada.ca you can access all of our publications free of charge. We have tools to help you become debt-free, use your money wisely, plan for the future, and build wealth. The topics Consolidated Credit Canada addresses range from identity theft to building a better credit rating; from how to buy a home to paying for university. On our website, you will also find interactive tools that allow you to calculate your debt and see how much it is costing you.
We are dedicated to personal financial literacy and providing a debt-free life for Canadians. If you are overburdened by high-interest rate credit card debt, then I invite you to speak with one of our trained counsellors free of charge by calling (844)-402-3073 for free professional advice.
Sincerely,
Jeffrey Schwartz
Executive Director
Consolidated Credit Canada.
---
Wedding Planner
Saying, "I do" Anytime Soon?
Getting engaged and having a wedding are very expensive events. Once you have made the commitment, it is time to think MONEY. It is a great deal of money to be dishing out when you are just starting your life together, but we hope to make the ride less scary and more fun – without tossing out all of your green. Follow our straightforward financial plan and we pledge that your wedding will not only be beautiful, but it won't max out every credit card you own, either. Discuss your financial situation and figure out who is going to pay for what. Sit down and figure out how much everyone can afford to donate to your wedding. It is usually a good idea to speak with each family separately, or it might be a good idea for the bride and groom to speak with their own families first. It's not going to be the easiest conversation in the world, but it's crucial to know what kind of budget you're working with from the start. It is becoming very common for couples to pick up at least a portion of the tab, so you should come to the table with an estimate of what you can contribute, based on what you have saved and how much more you can put aside between now and the wedding day. Strive for saving about 20% of your combined monthly take-home pay, if you can afford it. If you can't afford it, consider having a smaller wedding or seeing if other close relatives would be able to pitch in. No matter who is footing the bill – your parents or yourself – you have to set up a wedding budget to keep costs within reason.
Saving is Paramount to a Successful Future
Putting 20% of your income away each month may sound like a lot, but if you cut out the extra costs you'll be surprised how easy saving can be. For example, over the next year, if you brown-bagged it three days a week, saving about $15, you'd be $860 richer. Another way to save is to set a stringent entertainment budget for your engagement year. Limit yourself to one movie a month – renting movies is a lot cheaper — and have your friends over instead of going out.
If you already have a couple thousand or more put away to pay for your wedding, don't just leave it in a standard savings account, earning you very little interest.
Instead, try to put your money in Guaranteed Investment Certificates (GIC's) that are available at all banks. GICs offer a variety of investment options including short-term, usually, a minimum of $1,000, and the bank will tell you just how much you'll earn after the GIC matures. Shop around because GIC interest rates vary widely.
GIC rates vary with how long you're investing the money. In most cases, the longer you leave your funds in, the higher the interest rate. The only potential disadvantage to a GIC is that you can be penalized if you dip into the money before the maturation date.
For someone starting off with $3,000 or more though, this may be a good option, since you can lock $2,000 away for the bill-paying month before the wedding and keep $1,000 in your bank account as an emergency fund.
Another option is a money market account. Rates are better than savings accounts and you get to write cheques! Shop around as rates vary widely, as do the restrictions. For example, the number of cheques you are allowed to write each month and minimum-balance requirements.
One Woman Charges Items Rather Than Seek Alternatives
When planning your wedding try not to get too carried away. Don't do what Kristeen did and whip out the credit cards to make up for the difference between what she wanted and what she could afford. "My husband and I decided we wanted a small wedding; a traditional church service followed by a small reception in my parents' backyard. A small wedding was not cheap. I decided, without my husband knowing, to use my credit cards to help with the costs." Kristeen explained.
Like anything else, you should only plan to buy what you can afford when it comes to your wedding. If you're working with a $10,000 budget, don't plan a $100,000 affair. "My poor husband had no idea what anything really costs because I didn't want him to say, "Oh we can't do that."
"I wish I just listened to him", she sighed. "Then I thought to myself – we will make it all back at the wedding. Well, we didn't, and in the end, my wedding cost around $13,000 dollars. We received about $4,000 in gifts." said Kristeen.
The average wedding cost $29,000 and is based on 125 guests. If you can pare your guest list down to 65, you'll already have shaved a hefty 50% off your reception/catering bill.
As for Kristeen, once she started to think about their future she realized what a mess she had made by charging up her credit cards for a fleeting moment. "All in all, I am almost 30 yrs old and $27,000 dollars in debt, I had no plan and no way to pay off the debt until I joined Consolidated Credit Counseling." Currently, Kristeen and her husband are members of Consolidated and they are on their way to a debt-free life.
Money Saving Wedding Ways
Give Yourself Enough Time. Set a wedding date that will allow you and your family time to store up funds for wedding-related expenses.
More Work. If money isn't readily available, consider getting a second job to supplement the wedding budget. Or, simply cut the budget.
Set Limits. Invite 100 guests instead of 150. Set a limit first and then create a list that falls within those guidelines. For example, first cousins may be invited, but second cousins are not. Have two bridesmaids instead of ten. Serve three courses instead of five.
Do It Yourself. Enlist the creative talents of relatives and friends who can help you make your wedding gown, create floral arrangements or even bake your wedding cake for you. Coordinate the alcohol, make the favours, and address your own envelopes.
Loosen Up. The less formal the affair, the more affordable. Instead of a sit-down dinner, go for a casual brunch or barbecue. Get rental cars in lieu of limos. Choose a morning or afternoon wedding. They're less expensive than evening affairs.
Pick And Choose. Indulge in a designer dress, but go barefoot. Ditch the hors d'oeuvres and spend your money on exquisite entrees. Serve a great cake and skip the dessert table.
Put It Off. Get silver wedding bands now and upgrade to platinum on your first anniversary.
Coordinate With Others. If another wedding is being held within a few hours of yours in the same location, perhaps you may be able to share some of the costs of flowers and decorations.
No Holidays. Holiday weddings are more expensive because you are competing for catering services, wedding and reception sites, D.J.'s, limousines, photographers and more.
Wedding Guide Budget Planner
Download the booklet, which includes all worksheets
Wedding Expense Tally Register
Each wedding is unique, couples have different priorities, and costs vary from city to city. As you make decisions about how to spend your money based on what's significant to you, enter your costs and tally up how much money is allocated and what you have left to spend. We recommend that you make several copies of this Budgeting Guide so you can use one for estimates as you shop and a final version. Happy planning!
Top Financial Considerations for Newlyweds
1. From the beginning, save 15 – 20% of your income. By combining households, you should be able to reduce your expenses and increase your savings.
2. You should save to build your cash reserves and your savings account outside your RRSP.
3. Rather than simply keeping two chequebooks like before you were married, pool your money into one chequebook and one savings account or money market account.
4. Change all of the beneficiaries on life insurance plans, retirement and other plans at work, to your new spouse.
5. Decide how debts accumulated by each individual prior to the marriage (i.e. student loans) will be handled.
6. Work together on budgeting and tracking expenditures.
7. Discuss your approaches to handling money — is one person a spender and one a saver? Create some ground rules on handling any differences.
---
About Consolidated Credit Canada
Consolidated Credit Canada is a consumer-oriented, nonprofit, registered charity. We are an industry leader in providing credit counselling and debt management services. Our mission is to assist individuals and families in ending financial crises and to help them solve money management problems through education, motivation, and professional counselling. Our organization is funded primarily through voluntary contributions from participating creditors. Our programs are designed to save our clients money and liquidate debts at an excellent rate.
We are dedicated to empowering consumers through educational programs that will influence them to refrain from overspending and abusing credit cards,as well as to encourage them to save and invest. Regardless of whether your financial problems are due to the purchase of a new home, the birth of a child, major illness, or any other circumstance, we can help.
* If you are headed for a debt disaster visit www.ConsolidatedCreditCanada.ca or call (844)-402-3073 for free professional advice by a trained counsellor.