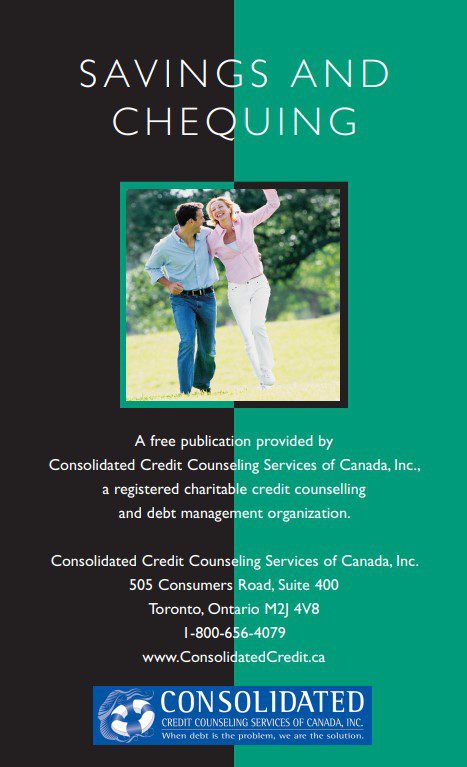 Savings and Chequing
Having a Savings and Chequing Account is basically standard for most people.
This booklet shows you some places and ways to save your money.
Here you go a short list of them:
Passbook Account
Statement account
Guaranteed Investment Certificate (GIC)
Cashable GIC's
Accelerated rate GIC's
Stock indexed GIC's
Compare Chequing Account
---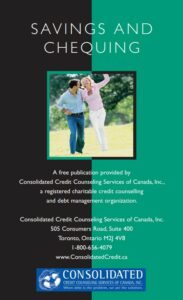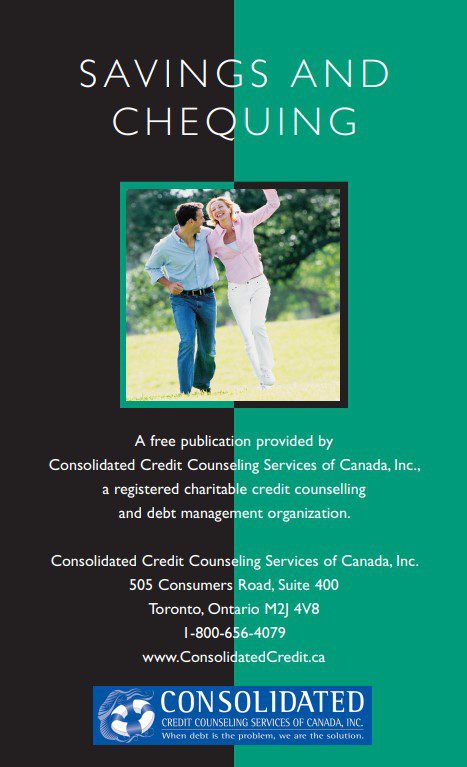 Congratulations on taking this important step to a brighter financial future. Consolidated Credit Canada has been helping Canadians across the country solve their credit and debt problems for years.
Our Educational Team has created over twenty-five publications to help you improve your personal finances. By logging onto www.consolidatedcreditcanada.ca you can access all of our publications free of charge. We have tools to help you become debt-free, use your money wisely, plan for the future, and build wealth. The topics Consolidated Credit Canada addresses range from identity theft to building a better credit rating; from how to buy a home to paying for university. On our website, you will also find interactive tools that allow you to calculate your debt and see how much it is costing you.
We are dedicated to personal financial literacy and providing a debt-free life for Canadians. If you are overburdened by high-interest rate credit card debt, then I invite you to speak with one of our trained counsellors free of charge by calling (844)-402-3073 for free professional advice.
Sincerely,
Jeffrey Schwartz
Executive Director
Consolidated Credit Canada.
---
Save, Save, Save! A Little Money Adds Up!

If you invest $1,000 each year or $19.20 per week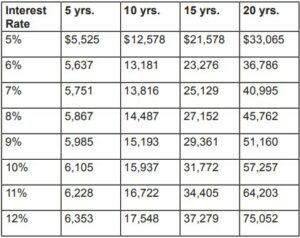 Places and Ways To Save Your Money
Passbook Account
• You would receive a booklet showing all of your deposits, withdrawals, and interest.
• The average interest rate is lower at banks than at credit unions.
• Your funds are easily accessible.
Statement account
• These are essentially the same as a passbook account, except you would receive monthly statements instead of a passbook.
• These accounts are usually accessible through 24-hour automated banking machines (ABMs).
• The interest rates are the same as a passbook account.
• Your money is easily accessible.
Guaranteed Investment Certificate (GIC)
• A type of debt security sold to individuals by banks and trust companies
• Cannot typically be cashed out until the stated redemption date
• Pay interest at fixed rates
• Safe investment with no dependency on the stock market fluctuation
• Guaranteed return
Cashable GIC's
• One year term
• Can be cashed out after 30 days of investment
• Rates typically lower
Accelerated rate GIC's
• 5-year term
• Annual interest rate increases each year
• Typically offers the option to cash in and re-invest if rates go up
Stock indexed GIC's
• Principle is guaranteed
• Profit based on stock market fluctuation
• Can typically be invested in your choice of the Canadian, U.S. or international stock markets
• Typically non-redeemable and nontransferable
Many financial institutions offer additional specialty GIC products that are specific to the bank. Contact your local bank to get more information.
Compare Chequing Accounts
Location
Branch offices; hours of operation; availability of ABMs
Fees
Monthly fees; per cheque fees; printing of cheques; balance inquiry fees; ABM fees, internet/telephone banking fees
Other charges
Overdraft charge; stop payment fees; certified cheque fees
Interest
Rate earned; minimum deposit to earn interest; compounding method; fee charged for falling below necessary balance
Restrictions
Minimum balance; deposit insurance; holding period for deposited cheques
Special features
Direct deposit; automatic payments; overdraft protection; online banking; discounts or free chequing for students, seniors, or employees of certain companies
Electronic Banking Services
Direct deposit – earnings (or government payments) automatically deposited into bank accounts, saving time, effort, and money.
Automatic payments – utility companies, loan payments, and other businesses use an automatic payment system with bills paid through direct withdrawal from a bank account.
Automatic banking machines – allow customers to obtain cash and conduct banking transactions.
Point of sale transactions – acceptance of ABM/Interac cards at retail stores and restaurants for payment of goods and services.
Stored value cards – prepaid cards for telephone service, transit fares, laundry service, library fees, and school lunches.
Electronic cash – companies are developing electronic replicas of all existing payment systems cash, cheque, credit cards, and coins.
Cyber Banking – banking through online services. Banks with Web site "cyber" branches allow customers to check balances, pay bills, transfer funds, compare savings plans, and apply for loans on the internet.
Smart cards
Smart cards, sometimes called "electronic wallets," look like ABM cards, but they also include a microchip.
• This minicomputer stores prepaid amounts for buying goods and services.
• A smart card can also store data about a person's account balances, transaction records, insurance information, and medical history.
Choosing A Chequing Account
Name of bank:___________________________________
How far is it from your home:________________________
How far is it from your work: ________________________
Number of ABMs: ________________________________
Are your funds insured? ___________________________
Types of accounts offered that you are interested in:___________________________________________________
Fees:
Must maintain a minimum daily balance of:__________________________________________________________
Must maintain an average daily balance of:__________________________________________________________
Monthly maintenance charge:_______________________
Overdraft fee: ___________________________________
Fee for printing cheques: __________________________
Fee for bouncing cheques:_________________________
Stop payment fee: _______________________________
Fee for certifying cheques:_________________________
Interest:
How much interest do you earn on your account?_____________________________________________________
How is it calculated?______________________________
Extra Services:
Can you transfer funds over the phone?_______________
Can you transfer funds over the Internet?______________
Do they offer bill payment over the phone?_____________
Do they offer an ABM card? ________________________
Do they participate in Direct Deposit?_________________
---
About Consolidated Credit Canada
Consolidated Credit Canada is a consumer-oriented, non-profit organization. We are an industry leader in providing credit counselling and debt management services. Our mission is to assist individuals and families in ending financial crises and to help them solve money management problems through education, motivation, and professional counselling. Our organization is funded primarily through voluntary contributions from participating creditors. Our programs are designed to save our clients money and liquidate debts at an excellent rate.
We are dedicated to empowering consumers through educational programs that will influence them to refrain from overspending and abusing credit cards, as well as to encourage them to save and invest. Regardless of whether your financial problems are due to the purchase of a new home, the birth of a child, major illness, or any other circumstance, we can help.
* If you are headed for a debt disaster visit www.ConsolidatedCreditCanada.ca or call (844)-402-3073 for free professional advice by a trained counsellor.