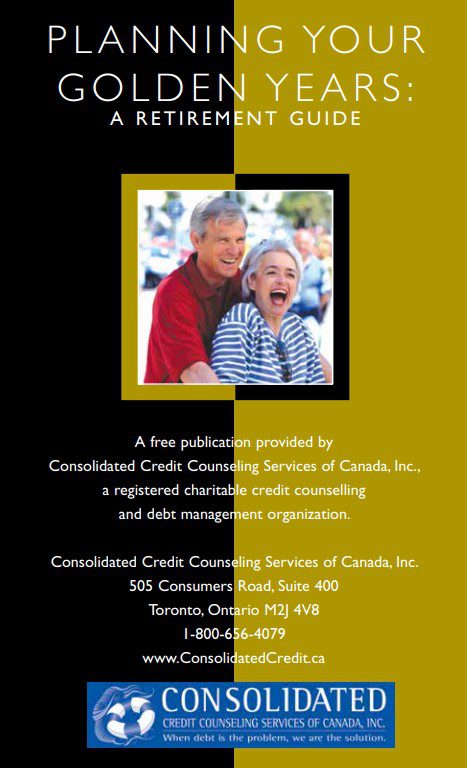 Planning Your Golden Years
While most Canadians think they are on the path to a long and comfortable retirement, many will learn at retirement age that they're not as comfortable as they'd like to be. This publication guides consumers to take time for retirement planning so their future will be more secure. This document also highlights financial concerns to consider when living on a fixed income to avoid becoming troubled with debt.
---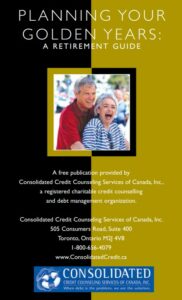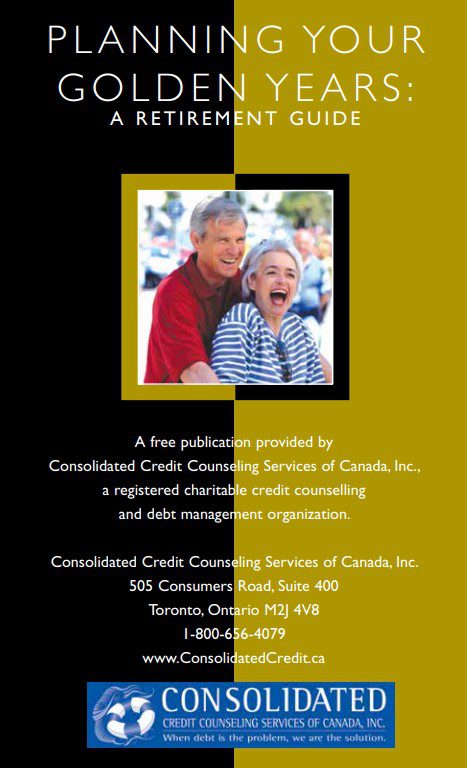 Congratulations on taking this important step to a brighter financial future. Consolidated Credit Canada has been helping Canadians across the country solve their credit and debt problems for years.
Our Educational Team has created over twenty-five publications to help you improve your personal finances. By logging onto www.consolidatedcreditcanada.ca you can access all of our publications free of charge. We have tools to help you become debt-free, use your money wisely, plan for the future, and build wealth. The topics Consolidated Credit Canada addresses range from identity theft to building a better credit rating; from how to buy a home to paying for university. On our website, you will also find interactive tools that allow you to calculate your debt and see how much it is costing you.
We are dedicated to personal financial literacy and providing a debt-free life for Canadians. If you are overburdened by high-interest rate credit card debt, then I invite you to speak with one of our trained counsellors free of charge by calling (844)-402-3073 for free professional advice.
Sincerely,
Jeffrey Schwartz
Executive Director
Consolidated Credit Canada.
---
Planning Your Golden Years: A Retirement Guide
Know What You Want
While most people envision retirement as no work and lots of play; that is not always realistic. Even if you do not want to work (and do not have to bring in extra money), you'll want to find activities that keep you wanting to get out of bed in the morning.
So before you even start thinking about money, your first step is to think about what you really want at retirement. Do you really want a thirty or forty-year vacation? Or do you want to pick up a hobby you always wanted to learn? Work part-time? Move to a condo on a golf course or a beach in South America? Use the Retirement Lifestyle worksheet at the end of this brochure to help you start thinking about some of your options.
Establish Your Financial Goals
Consumers have often heard that they'll need about 70% of their pre-retirement income to live comfortably in retirement. But that may be wildly inaccurate.
The fact that people live longer, the desire to travel, or even children or grandchildren who move in, can make retirement more expensive than expected. If you're more than fifteen years from retirement, a good place to start reviewing what you might need is the easy-to-use Retirement Income Calculator provided by Service Canada www.servicecanada.gc.ca in the Seniors section under calculate your retirement income.
Most people will receive income from two or three sources during retirement, including:
1. Old age security
2. Canada Pension Plan (CPP) or Quebec Pension Plan (QPP)
3. Employer Pension
4. Registered Retirement Savings Plan (RRSP)
5. Other sources of ongoing income (part-time work)
Before you retire, it's important to understand what to expect from each.
1. The Old Age Security (OAS) Pension is a monthly benefit available to most Canadians 65 years of age or older who have lived in Canada for at least 10 years. You should apply for the Old Age Security Pension six months before you turn 65. You can download an application kit or contact Service Canada to request that a kit be mailed to you. The kit contains detailed instructions to help you apply for the Old Age Security Pension, including where to send the completed application form. (www.servicecanada.gc.ca or 1-800-277-4414)
2. The Canada Pension Plan is a contributory, earnings-related social insurance program that provides you with a stable and dependable pension you can build on for retirement. It also provides you and your dependents with basic financial protection if you become disabled or die. For more information regarding your CPP, visit the Service Canada website at www.servicecanada.gc.ca or 1-800-277-4414.
3. Employer pension – Talk with your employer or human resources department to understand the full details of benefits that they provide to you. You should be able to obtain information in writing that explains contributions and stipulations.
Consider joining an investment club to get both the know-how and motivation to start investing. Visit www.iac.ca for information on starting an investment club. It can be fun, and profitable!
Talk with a financial planner before you start withdrawing money from your retirement plans. The rules about withdrawals are complicated, and if you don't do it right you can end up paying expensive taxes and penalties.
Here are several resources for finding a financial planner:
The Financial Planners Standards Council has developed a code of ethics and certification for Canadian financial planners. They have a comprehensive website that provides you with information and recommendations for making choices about your financial planning. At www.fpsccanada.org, you will find a learning centre that includes information regarding estate planning, tax planning, asset management, retirement planning, along with multiple personal
financial planning topics.
The Canadian Bankers Association provides a list of chartered banks along with a plethora of educational material on the economics of the Canadian market.
4. Registered Retirement Savings Plans (RRSP) – allows savings for retirement to grow tax-free in a special savings plan registered by the Canada Revenue Agency. An RRSP account is set up through a financial institution, caisse populaire, or credit union. Contributions can be made to an RRSP up until December 31st of the year the contributor turns 69 years of age. Those contributions are tax-deductible. Check out your local bank's website for more
information or visit the CBA's website at www.cba.ca.
5. Part-time Work: This may depend on what you plan to do in retirement, and how many hours you'll be able to work. If you enjoy your current job but want to cut back, find out whether your company hires contractors or part-time workers. If you want to pursue a different part-time job or business during retirement, can you start apprenticing now part-time to find out what the work is really like, or to start building experience or credentials? The more homework you do before you retire, the more likely you are to make a smooth transition afterward.
Get Together
Couples who have been at odds with their financial goals, or who haven't talked about money before retirement, may find things strained when their regular paycheques end. Because most people have to make financial and lifestyle adjustments during retirement it's important for couples to start talking about their differences, as well as their shared goals. Many churches and local community centres also sponsor workshops about couples and money.
Eliminate Credit Card Debt
If you have unsecured credit card debt, make it a priority to pay it off before you retire. Paying off high-interest credit card debt on a fixed income can sometimes be especially stressful. The high interest rates associated with credit cards can add up, especially on a fixed income. If you have five or six credit cards now, keep one or two with the lowest interest rates and pay off the others before you retire.
Decide Where You Want to Live
If you are planning to move after you retire, look into the cost of living for that area. If you are interested in a retirement community, check to see if living there will help or harm your ability to cut back on health care, food or utility expenses. If you are looking into moving to a new province or town, it could be worthwhile to see if there are tax advantages for senior citizens. Learning the financial details of where you would like to live will help you budget your retirement savings more accurately.
Your library should carry several books to help you in your search for a place to settle, such as Retire in Style: 60 Outstanding Places Across the U.S.A. and Canada by Warren Bland. If you type in Best Places to Retire Canada in a search engine on the Internet, you'll find a number of websites with information.
The next step is to try some of them on for size. If you think retirement in a foreign country is for you, can you take some vacation time to check it out? Just be sure to spend some time with others who have actually retired to that area, or you'll get an unrealistic view. Vacation is different than day-to-day living.
Take Care of Yourself
According to a study conducted by the Canadian government titled "Canadian Seniors, A Dynamic Force," 37% of Canadians, age 85 and older, live in an institution. According to Statistics Canada, one in ten Canadians will need some type of long-term care by the age of 55 and three in ten by the age of 65. People are living longer which is wonderful, but expensive. In the event that you are in need of long-term care, did you know that you, not the government, are responsible for the cost? If you reside in a hospital for 45 days or more and you do not require active care, you are considered to be receiving long-term care. Assisted living facilities typically cost anywhere from $2500 to $6000 per month.
Although saving for retirement is typically focused on what you are going to enjoy in your later years, be sure to focus part of your finances on the unexpected as well. Talk to your financial planner about ways to set aside a fund to cover long–term care and medical expenses. Better safe than sorry.
Planning for retirement can be overwhelming, but the earlier one starts the easier it becomes.
Start simple. Your first step is to invest in your good health. Research shows that regular exercise, a healthy diet, strong community ties, and activities to keep the mind active make it possible to enjoy retirement. The sooner you begin to really take care of yourself, the better, and small changes can make a big difference.
Put Those Mortgage Payments Behind
You Planning to pay off your mortgage before you retire can save you many financial headaches down the road. You'll feel a lot more comfortable without a large mortgage debt looming over your head. Most lenders allow you to prepay your mortgage by sending in extra money with your payment. You don't have to follow an expensive schedule or pay for a bi-weekly payment plan. Just send in what you can, when you can, and make sure you designate that extra as an additional "principal" payment.
If your home is paid off when you retire, you may want to take money out of your home. A reverse mortgage allows you to get money from a lender instead of paying money to one. You can continue to live in your home for as long as your health allows while receiving a monthly cheque. This can be ideal for retirees who own a home but don't have a lot of cash to cover expenses. Keep in mind that this option requires that once you pass away, your home is turned over to the bank that holds the reverse mortgage, hence you are limited in what inheritance you may leave to loved ones.
Think Creatively
Your retirement may not be exactly what you have envisioned, but given the number of years you're likely to spend in retirement or at least semi-retirement, you should have plenty of opportunities to experiment with different options. You may consider renting out a room in your home to another retiree or a university student, for example. If you're a nurse or teach in a special area of expertise, you may be able to travel on cruises for free in exchange for your services.
If Debt Is Getting the Best of You – Seek Help
If getting control of your debt before you retire is becoming an overwhelming task, seek the assistance of a financial planner or credit counsellor who can provide FREE advice about your particular situation.
Don't wait. One of the biggest mistakes consumers make is raiding their retirement funds to pay bills when they would have been better off getting help from a professional credit counsellor who can help them evaluate their options and make smart choices.
You can call Consolidated Credit's Debt Hotline at (844)-402-3073 and speak with a credit counsellor to discuss ways to create a manageable plan for reducing debt.
Retirement Lifestyle Worksheet
If married, both couples should complete separately and compare.
What kind of climate do you want to live in?
__________________________________________________________________________________________________________
What size community do you want to live in?
__________________________________________________________________________________________________________
Which amenities are important to you?
Golf
Water/Beaches
Restaurants
Hiking
Libraries
University
Major Airport/low-cost flights
Cultural activities (theatre, museums, etc)
Church or synagogue
Other: __________
Other: __________
What features of the community are most important to me?
Hospital/Health Care Access
Low crime rate
Low traffic
Public transportation
Other: ___________
Other: ___________
Do I want to travel in retirement? If so, how often and where to?
__________________________________________________________________________________________________________
Do I want to live close to family members? Grandchildren?
__________________________________________________________________________________________________________
What kind of work or business would I like to try?
__________________________________________________________________________________________________________
What hobbies would I like to pursue?
__________________________________________________________________________________________________________
How do I plan to take care of my health?
__________________________________________________________________________________________________________
What size home do I want to live in? Upkeep? Landscaping?
__________________________________________________________________________________________________________
What do I want to do with household items that I have accumulated over the years?
__________________________________________________________________________________________________________
What pets do I have/want to have and how will they influence my lifestyle?
__________________________________________________________________________________________________________
Other goals and dreams for retirement:
__________________________________________________________________________________________________________
---
About Consolidated Credit Canada
Consolidated Credit Canada is a consumer-oriented, non-profit organization. We are an industry leader in providing credit counselling and debt management services. Our mission is to assist individuals and families in ending financial crises and to help them solve money management problems through education, motivation, and professional counselling. Our organization is funded primarily through voluntary contributions from participating creditors. Our programs are designed to save our clients money and liquidate debts at an excellent rate.
We are dedicated to empowering consumers through educational programs that will influence them to refrain from overspending and abusing credit cards, as well as to encourage them to save and invest. Regardless of whether your financial problems are due to the purchase of a new home, the birth of a child, major illness, or any other circumstance, we can help.
* If you are headed for a debt disaster visit www.ConsolidatedCreditCanada.ca or call (844)-402-3073 for free professional advice by a trained counsellor.