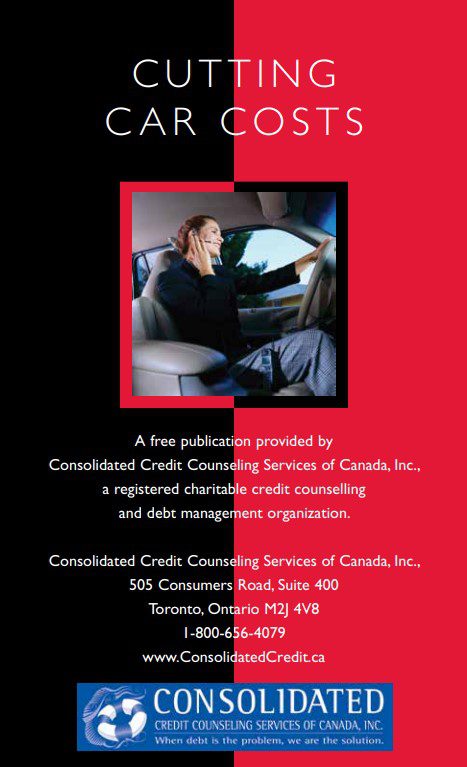 Cutting Car Costs
People pay a tremendous amount of money for a new vehicle and consumers are stretching out their loans to an average of over 62 months – just over five years. Over that 5-year period, finance charges can be astronomical. This booklet reviews how consumers can save money when buying a car and details what common mistakes to avoid.
---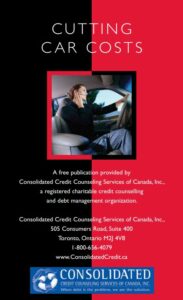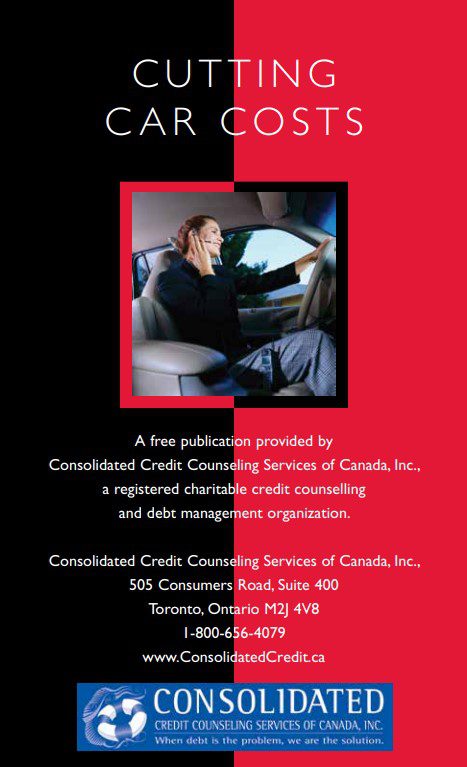 Congratulations on taking this important step to a brighter financial future. Consolidated Credit Canada has been helping Canadians across the country solve their credit and debt problems for years.
Our Educational Team has created over twenty-five publications to help you improve your personal finances. By logging onto www.consolidatedcreditcanada.ca you can access all of our publications free of charge. We have tools to help you become debt-free, use your money wisely, plan for the future, and build wealth. The topics Consolidated Credit Canada addresses range from identity theft to building a better credit rating; from how to buy a home to paying for university. On our website, you will also find interactive tools that allow you to calculate your debt and see how much it is costing you.
We are dedicated to personal financial literacy and providing a debt-free life for Canadians. If you are overburdened by high-interest rate credit card debt, then I invite you to speak with one of our trained counsellors free of charge by calling (844)-402-3073 for free professional advice.
Sincerely,
Jeffrey Schwartz
Executive Director
Consolidated Credit Canada.
---
Cutting Car Costs
Driving is no longer something to pass the time with the family in the back seat. It is expensive to drive, but it is usually necessary! According to the Canadian Automobile Association, the driving cost per kilometre for a 4-door Chevrolet Z-24 with a 2.4 litre, 4 cylinder engine, is 45.3 cents. That sounds like just pennies, right? Add your ownership costs over a full year and you are spending over nine thousand dollars after driving an average of 18,000 kilometres for the year. Need 4-wheel drive or leather seats? You've just exceeded ten grand for the year to ride in style.
The dreaded topic of fuel for our vehicles is one that seems to constantly be in the news. According to Statistics Canada, our country consumed 39.8 billion litres of gasoline in 2005.
The use and cost of fuel increase in the summer months of July and August due to the increase in holiday travel. Don't blame your local gas station owner for the price fluctuation. Taxes, both federal and provincial, comprise 40-50% of the overall cost of gas.
The following are a few strategies for saving money on your vehicle cost:
Payments: When shopping for a car, ensure that you don't immediately ask what your payment is going to be. First, talk to the dealer about the sticker price and work that down. Then, talk to the dealer about financing if that is how you are going to pay for the car. You do not HAVE to finance with the dealership. Many banks will finance the loan for you without working through the car dealership. Your payments are solely determined by the amount you are financing (the price you are paying for the car less down payment and trade-in value) and the rate at which you are financing. Do not accept an offer the first time you are in a dealership. If you are told that the car will not be there or the deal will not be good after that day, call their bluff and sleep on the decision. If you are planning on leasing your vehicle, still work on the sticker price first. Your lease payments are based on the price of the car, the depreciation of the car over the lease term, a lease rate, and taxes. You have control over the price of the car so make sure that you are getting the best deal.
Refinance: The average interest rate in Ontario for a new car loan on a $15,000 balance is almost 8%. This assumes that you have an above-average credit rating. If you are paying a high rate on your current car loan, it pays to shop around and see if you can do better.
Know The Score: Your credit score is a determining factor in the interest rate you pay on any loan. This score is taken into consideration along with your income and job stability when the bank is looking to approve your loan. It is very easy to obtain a copy of your credit report from any one of the credit reporting agencies in Canada.
Downsize: The cost to own and operate a vehicle varies greatly depending on the type of vehicle you drive, the distance you are driving and the maintenance on your vehicle. For example, according to www.Canadiandriver.com, the base price for a BMW 525i is $58,600 with a fuel consumption of 11.4 litres/100km city and 7.1 litres/100 km highway. The Toyota Camry LE V6 sedan starts at just under $27,000 with a fuel consumption of 7.4 litres/100 km highway and 11.5 litres/ 100 km city. Oftentimes, you are paying for the name with a luxury car and it is not a practical purchase. Buy smart when you are investing in a car and do your homework.
Insurance
Not sure how much you're paying for insurance? Not sure if you're getting a good deal? You're not alone. Many people stay with the same insurance company for years just because it is who they have always had coverage through. Take the time to shop for quotes periodically to ensure that you are getting the best deal.
Get A Good Deal: The cost of your insurance coverage can vary by as much as $1000 among different insurers, so it pays to shop around. Visit www.insurancehotline.com to get competitive quotes on your auto insurance. Contact at least three insurance companies for quotes. Ask about discounts if you have an anti-theft device or alarm if you are a "non-drinker", or you sign up for multiple coverage options (homeowners, renters, etc). Also, check out the rating of the insurance company at www.ambest.com. AM Best Company is an independent organization that evaluates all insurers against the same criteria and rates them accordingly.
Lighten Up On The Lead Foot: According to Yahoo Canada, three out of five insurance companies that quoted rates raised rates once a client has one speeding ticket on their record. The rate increases ranged from zero to fifteen percent. After two tickets, rates increased anywhere from 24 – 66%. This cost increase does not include the out-of-pocket expense to pay the ticket either. Be aware of your speed when on the road and you could save yourself a lot of money.
Don't Leave Yourself Exposed: Auto insurance can be expensive, but going without the right coverage can be financially devastating if you are in an accident. Make sure you understand the types of coverage and have enough insurance if, for example, an uninsured motorist hits your vehicle. If raising your total coverage makes your policy more expensive, consider raising your deductibles to offset the cost. Remember, the main reason to have insurance is to take care of losses you can not afford.
Fuel
With gas prices rising, it has become more important than ever to save energy (and money). Here's how:
Check Tires: Properly inflated tires do make a difference in fuel consumption. Check yours at least once a month when they are cold. Fill them to the figure recommended by the manufacturer, not the figure printed on the tire itself (which is usually the maximum tire pressure, not the recommended one).
Make the Grade: Check the grade of gasoline recommended for your vehicle and stick with it. Using premium gasoline when your vehicle doesn't need it is like burning money.
Lighten the Load: The lighter your vehicle, the more efficient your gas consumption will be. If you're using your trunk as an extra closet, get rid of the junk – maybe even have a garage sale!
Don't Go Too Low: Driving your car until it is empty before you refill means your car frequently has to use the dirtiest gasoline, which can lead to poor performance and even engine damage. Fill up long before the gasoline warning light comes on.
Slow Down: Coast to a stop as much as possible. Sudden stops not only wear the brakes faster but can use up more fuel as well. On the highway, keep in mind that faster speeds use more gas.
Keep Cool: Running the air conditioner on the highway can save fuel because it puts less drag on the vehicle than keeping the windows open. For a local run around town, though, rolling down the windows and turning off the a/c will usually, be the cheaper choice.
Shop Wisely: Driving across town to get the cheapest gas may or may not save you money. To find out where the cheap gas is local, visit www.gastips.com. Keep in mind how much you are saving per litre and how far you are driving to get that discount. The savings may not outweigh the gas you are using to travel to the cheaper gas station and it may not be worth the hassle either.
Repairs and Maintenance
Force Yourself To Save: When you make your car payment each month, put $20 – or whatever you can afford – into savings account for repairs and maintenance. When you pay off your car, continue to make the same monthly car payment you were making to the lender – but put it into a savings account for repairs. Ultimately, you may decide to use it for a down payment on a new vehicle.
Stay on Schedule: Regular oil changes, a clean air filter, changing the antifreeze every year or two, and other regular maintenance will make your car run more efficiently and last longer with fewer repairs. Find a good mechanic and stick with a schedule for routine maintenance. Operating a vehicle with just one tire under-inflated by 6 psi (40 kPa) can reduce the life of the tire by 10,000 km and increase the vehicle's fuel consumption by three percent. For improved fuel efficiency and enhanced safety, give your tires the attention they need. (www.About.com)
Get Good Help: The cost for service and repairs can vary a great deal among dealerships and independent repair shops. Ask for recommendations from friends and relatives, make a few calls to compare prices, and check out complaints with the Canadian Council of Better Business Bureaus (visit www.ccbbb.ca). Dealerships will often charge more for service but they are also more reputable than some smaller mechanic businesses.
Know When to Say When: Don't give up on your older car just because it needs repairs. Even a $2500 new transmission may be a bargain when you compare it to the $10,000 annual tab of a moderately priced new car. But, if you are finding yourself forking over a wallet full of cash for repairs, again and again, it may be time to shop for a new car.
Finally…
Dump The Wheels: Try going without your car (or a second car or a third one) for a week or a month. If you can make it, you may want to dump that car and rent on the occasions when you really must have a vehicle. Considering that even a "cheap" new car costs about $7500 a year to operate, you can end up ahead by hoofing it, using public transportation, and hailing a cab once in a while.
---
About Consolidated Credit Canada
Consolidated Credit Canada is a consumer-oriented, non-profit organization. We are an industry leader in providing credit counselling and debt management services. Our mission is to assist individuals and families in ending financial crises and to help them solve money management problems through education, motivation, and professional counselling. Our organization is funded primarily through voluntary contributions from participating creditors. Our programs are designed to save our clients money and liquidate debts at an excellent rate.
We are dedicated to empowering consumers through educational programs that will influence them to refrain from overspending and abusing credit cards, as well as to encourage them to save and invest. Regardless of whether your financial problems are due to the purchase of a new home, the birth of a child, major illness, or any other circumstance, we can help.
* If you are headed for a debt disaster visit www.ConsolidatedCreditCanada.ca or call (844)-402-3073 for free professional advice by a trained counsellor.