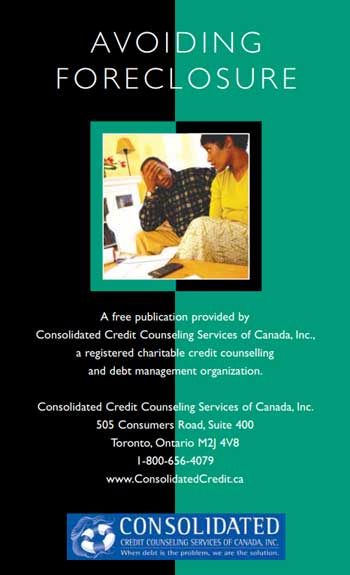 Avoiding Foreclosure
Falling behind on your bills can be very stressful, but falling behind on your mortgage can be downright frightening. The thought of losing your home may be so overwhelming that you try to avoid even thinking about it. But that's never the best approach.
If you're having trouble keeping up with your mortgage, this booklet will give you strategies for getting back on track.
---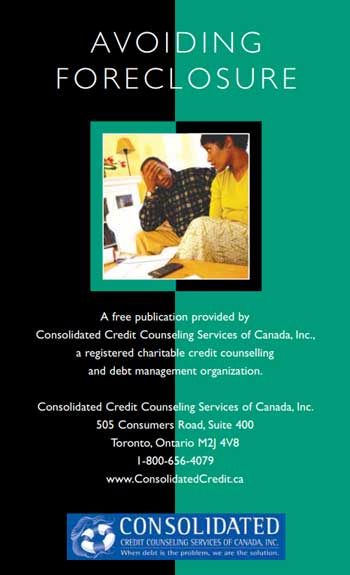 Congratulations on taking this important step to a brighter financial future. Consolidated Credit Canada has been helping Canadians across the country solve their credit and debt problems for years.
Our Educational Team has created over twenty-five publications to help you improve your personal finances. By logging onto www.consolidatedcreditcanada.ca you can access all of our publications free of charge. We have tools to help you become debt-free, use your money wisely, plan for the future, and build wealth. The topics Consolidated Credit Canada addresses range from identity theft to building a better credit rating; from how to buy a home to paying for university. On our website, you will also find interactive tools that allow you to calculate your debt and see how much it is costing you.
We are dedicated to personal financial literacy and providing a debt-free life for Canadians. If you are overburdened by high-interest rate credit card debt, then I invite you to speak with one of our trained counsellors free of charge by calling 1-800-656-4079 for free professional advice.
Sincerely,
Jeffrey Schwartz
Executive Director
Consolidated Credit Canada.
---
Avoiding Foreclosure
Falling behind on your bills can be very stressful, but falling behind on your mortgage can be downright frightening. The thought of losing your home may be so overwhelming that you try to avoid even thinking about it. But that's never the best approach.
If you're having trouble keeping up with your mortgage, this booklet will give you strategies for getting back on track.
How Does It Work?
In Canada, there are two ways that a lender can recover funds from a default on a mortgage. Power of sale, which is practiced primarily in the provinces of Newfoundland, New Brunswick, PEI, and Ontario, involves very little influence from the court. A judicial sale is the common practice of British Columbia, Alberta, Saskatchewan, Manitoba and Quebec. Nova Scotia uses the term "mortgage foreclosure" but it is also considered judicial.
How long it takes a lender to foreclose on your home, and the steps they must take to do so also varies by province. This education is focused on the province of Ontario. More information specific to all provinces can be found at https://www.foreclosuresearch.ca/.
The power of the sale process enables foreclosure proceedings to move much more quickly since there is minimal involvement from the courts and is used in 90%-99% of all foreclosures. There is another option, but the power of sale is much faster and costs less. The process begins with the lender simply sending a notice to the borrower.
Ontario is the only province that lists the property for sale with a real estate broker.
The Ontario Mortgages Act (http://www.e-laws.gov.on.ca) includes the power of sale proceedings. There are two types of power of sale listed in the Mortgages Act: contractual and statutory. The difference is actually very simple. A contractual power of sale is one that is detailed in your original mortgage document, where a statutory power of sale is one that is not in your original mortgage document, hence created separately.
It is not common to see statutory power of sale since most all mortgages have the power of sale provisions included when they are drafted. Nonetheless, the lender reserves the right to sell the property after the borrower is 3 months past due.
Once the borrower is notified of the intention to sell, he or she has 35 days to pay under a contractual power of sale and 45 days to pay under a statutory power of sale.
The Mortgages Act also regulates the process of the sale to ensure that a large population of potential buyers knows about the home. After-sale of the home, there are regulations in place to control how money is dispersed.
(source: www.foreclosures.ca)
Your Options If You Are Behind On Your Mortgage:
Negotiate With Your Lender
Lenders don't want to foreclose on homes. At the same time, they don't want to waste time and money on risky borrowers who are chronically late with payments — and who may not be taking good care of the home they may have to later take back and sell.
Respond to your lender's letters immediately by calling or writing to the lender's Collection Mitigation Department. Explain your situation and be prepared to provide financial information, such as your monthly income and expenses. Without this information, they may not be able to help.
Stay in your home for now as you may not qualify for assistance if you abandon your property.
Depending on the kind of mortgage you have, and your situation, you may be eligible for:
• Get a Second Mortgage. This is the best option for 90% of the foreclosures.
• Deed-in-lieu of foreclosure. This enables you to voluntarily "give back" your property to the lender. This won't save your house, but it is not as damaging to your credit rating as a foreclosure.
• Special Forbearance. Your lender may be able to arrange a repayment plan based on your financial situation and may even provide for a temporary reduction or suspension of your payments.
• Mortgage Modification. You may be able to refinance the debt and/or extend the term of your mortgage loan.
• Pre-forclosure sale. You could avoid foreclosure by selling your property for an amount more than the amount necessary to pay off your mortgage loan.
Pre-Foreclosure Sale
If your problems aren't temporary, you may need to sell your home. A foreclosure will result in the bank taking possession of your home and you will be left with nothing. To avoid that, take action before it happens.
If you do have enough equity in your home to be able to afford to pay a real estate professional's fee (usually 6% of the sales price, sometimes lower), it's a good idea to interview three real estate professionals and let them handle the sale for you. Statistics show that homes sold by professionals sell faster than ones where the owner is making the sale.
Make sure you get any agreements in writing from them as to what they will do to market your home. And don't necessarily go with the agent who tells you she can sell your home for top dollar. Choose the one who you believe will do the most to help your home sell quickly at a fair price.
If you're going to go this route, talk with your lender and let them know that you have put the home up for sale. Ask if they will hold off on their foreclosure proceedings longer since you have the house listed.
Short Sales
You've probably seen the signs or ads in the newspaper: "We buy homes for cash, any condition!" These ads are usually placed by real estate investors looking for bargain homes. If you've borrowed on your home recently, you may not have a lot of equity. But an experienced real estate investor may still be able to buy your home and give you enough cash to cover your moving expenses. They do this through a "short sale."
In a short sale, the buyer will prepare documentation showing the lender that you are in financial hardship and will end up in foreclosure anyway. They will then offer to buy the home for less than you owe on it.
Let's say, for example, your home is worth $75,000 and you owe $60,000 on your first mortgage and $10,000 on the second for a total of $70,000. The buyer may convince the first mortgage lender to settle for $45,000 and the second lender (who may get nothing in foreclosure or bankruptcy) to settle for $3,000. They may even pay you $500 or so to cover your moving expenses.
A short sale will help you avoid foreclosure, but it will still appear on your credit report as paid for less than the total amount and that will be a negative mark. On the other hand, if the documents are properly drawn up, you won't risk a deficiency judgment if the home was sold and didn't bring in enough to pay the lenders.
To make sure you are protected, ask the buyer if they will pay to have your documents reviewed by a lawyer of your choice.
Equity Skimming or Leasebacks
One of the less scrupulous methods for "helping" homeowners stay in their homes is equity skimming or leaseback programs. The individual offering to help you out will offer to catch you up on your payments and take them over for a period of time while you continue to "rent" the home.
The contract, however, usually contains strict provisions so that if you are one day late with your monthly payment, for example, the home is no longer yours. Or you may have actually signed over your home to that buyer with the opportunity to buy it back at terms you'll never be able to afford. Either way, you lose.
Be very careful if someone offers you an easy way out of your foreclosure situation. When you are in foreclosure, you're a high-risk borrower. Your lender won't let you off the hook easily, why would someone else?
---
About Consolidated Credit Canada
Consolidated Credit Canada is a consumer-oriented, non-profit organization. We are an industry leader in providing credit counselling and debt management services. Our mission is to assist individuals and families in ending financial crises and to help them solve money management problems through education, motivation, and professional counselling. Our organization is funded primarily through voluntary contributions from participating creditors. Our programs are designed to save our clients money and liquidate debts at an excellent rate.
We are dedicated to empowering consumers through educational programs that will influence them to refrain from overspending and abusing credit cards,
as well as to encourage them to save and invest. Regardless of whether your financial problems are due to the purchase of a new home, the birth of a child, major illness, or any other circumstance, we can help.
* If you are headed for a debt disaster visit www.ConsolidatedCreditCanada.ca or call (844)-402-3073 for free professional advice by a trained counsellor.