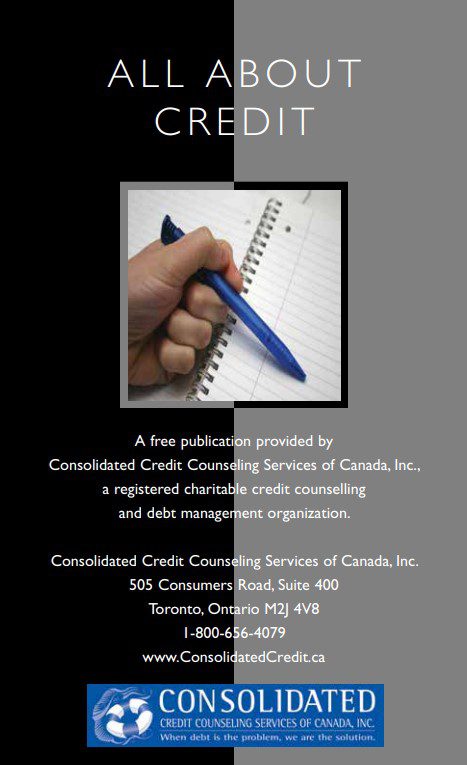 All About Credit
Your credit report has an impact on many important aspects of your life. Your ability to borrow money can impact your housing situation, your ability to have a car, and your ability to borrow money when necessary.
When you are shopping for a credit card, the free t-shirt is not going to save you money or provide you with convenience. Look over the features, benefits, and provisions to be sure that you are applying for a card that will fit your needs and benefit your financial situation, not hinder it.
---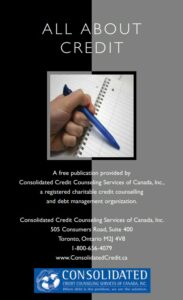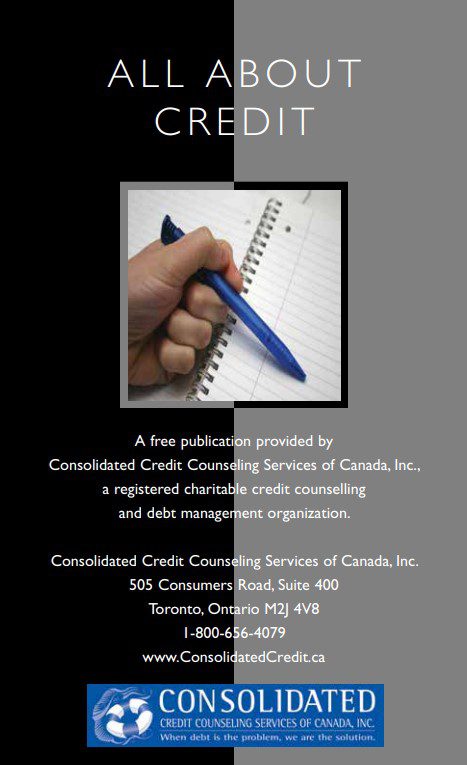 Congratulations on taking this important step to a brighter financial future. Consolidated Credit Canada has been helping Canadians across the country solve their credit and debt problems for years.
Our Educational Team has created over twenty-five publications to help you improve your personal finances. By logging onto www.consolidatedcreditcanada.ca you can access all of our publications free of charge. We have tools to help you become debt-free, use your money wisely, plan for the future, and build wealth. The topics Consolidated Credit Canada addresses range from identity theft to building a better credit rating; from how to buy a home to paying for university. On our website, you will also find interactive tools that allow you to calculate your debt and see how much it is costing you.
We are dedicated to personal financial literacy and providing a debt-free life for Canadians. If you are overburdened by high-interest rate credit card debt, then I invite you to speak with one of our trained counsellors free of charge by calling (844)-402-3073 for free professional advice.
Sincerely,
Jeffrey Schwartz
Executive Director
Consolidated Credit Canada.
---
Credit Cards: What You Need to Know
Card companies often aggressively recruit students in an effort to get them "hooked" on credit by luring them with T-shirts and other freebies when they apply for cards. This booklet is designed to give you the facts you need to become a wise consumer—and the tools you need to use credit to your advantage.
Don't let yourself be lured by the trivial offers: A credit card is not an invitation to spend money you do not have. Let's say you spend $500 on a credit card that charges 15% interest and requires a 2% minimum payment each month. Even if you never charge another item and pay the minimum on your account, it will take nearly 7 years to repay your debt. When you have finally paid your debt, you will have paid nearly $300 in interest on your $500  purchase, making your final cost $800.
You may pay even more if you make late payments or go over your credit limit. Always pay on time, even if you just pay the minimum due. When your credit card issuer changes any features, terms or conditions of your credit card, they must give you the details of those changes in writing. They must do this at least 30 days before the change goes into effect.
However, there are some changes to your credit card's terms and conditions that don't require advance notice. For the following changes, the issuer must inform you within 30 days after they take effect:
• a change to your credit limit;
• an extension of your grace period; a decrease in a charge that is not related to the interest rate;
• a change to any optional service you accepted; and if you have a variable-interest-rate card, the change to your interest rate as a result of a change in the reference rate.
Your credit report has an impact on many important aspects of your life. Your ability to borrow money can impact your housing situation, your ability to have a car, and your ability to borrow money when necessary.
When you are shopping for a credit card, the free t-shirt is not going to save you money or provide you with convenience. Look over the features, benefits, and provisions to be sure that you are applying for a card that will fit your needs and benefit your financial situation, not hinder it.
Pros & Cons of Establishing and Using Credit
Advantages:
• Able to buy needed items now
• No need to carry cash
• Creates a record of purchases
• More convenient than writing cheques
• Consolidates bills into one payment
• Reward programs
Disadvantages:
• Interest (higher cost of items)
• May pay additional fees
• Financial difficulties may arise if one loses track of how much has been spent each month
• Increased impulse buying may occur
How do lenders choose whom to give credit to? How do they decide what a person's credit limits should be?
They use the Three Cs
Character – will you repay the debt?
• Have you used credit before?
• Do you pay your bills on time?
• Do you have an established credit report that is in good standing?
• Does your credit report show a willingness to repay debt in a timely fashion?
• How long have you lived at your present address?
• Do you own a home?
Capital – what if you don't repay the debt?
• What property do you own that can secure the loan?
• Do you have a savings account?
• Do you have investments to use as collateral?
Capacity – can you repay the debt?
• How long have you been at your present job?
• Is your job stable?
• What is your salary?
• What current debts are reported to the credit bureau.
• How many other loan payments do you have?
• What are your current living expenses?
Your Credit Responsibilities
• Borrow only what you can repay.
• Read and understand the credit contract.
• Pay debts promptly.
• Notify the creditor if you cannot meet payments.
• Avoid buying on impulse.
• Report lost or stolen credit cards promptly.
• Never give your card number over the phone unless you initiated the call or are certain of the caller's identity.
Building Your Credit History
• Maintain stable employment.
• Pay all bills by or before the due date.
• Open a chequing account and do not bounce cheques.
• Open a savings account and make regular deposits.
• Apply for a local store credit card and make regular monthly payments.
• Apply for a small loan using your savings account as collateral.
• Apply for a loan with a co-signer, if necessary, and pay back the loan as agreed.
Types & Sources of Credit
Single-payment credit
This is when items and services are paid for in one payment, within a stated time period. Interest is typically charged upon maturity of the loan and there are no minimum monthly payments. This type of loan is usually issued when payment is coming from something other than a traditional income (i.e. a settlement or inheritance).
Examples:
• Financial institutions
• Some retail businesses
• Other service providers
Installment credit
This is when merchandise and services are paid for in two or more regularly scheduled payments of a set amount. The interest is included. Money may also be loaned for a special purpose. The consumer agrees to repay the debt in two or more regularly scheduled payments.
Examples:
• Some retail businesses, such as car and appliance dealers
• Commercial banks
• Consumer finance companies
• Credit unions
Revolving credit
Many goods and services can be purchased using revolving credit. An account is established with a preset credit limit and can be used and paid down repeatedly. Required minimum payments must be made to avoid adverse action and interest will typically accrue on any balance not paid in full within the stated grace period.
Examples:
• Retail stores
• Gas stations
• Financial institutions that issue credit cards
How Much Credit Can You Afford
Never borrow more than 15% of your yearly net income.
Example:
If you earn $500 a month after taxes, then your net income per year is: 12 x $500= $6,000
Calculate 15% of your annual net income to find your safe debt load. $6,000 x 15% = $900. So, you should never have more than $900 of debt outstanding.
Note: Housing debt (i.e., mortgage payments) should not be counted as part of the 15%. Monthly payments should not exceed 10% of your monthly net income
Example:
If your take-home pay is $500 a month: $500 x 10% = $50
Your total monthly debt payments should not total more than $50 per month.
Comparing Credit Cards
Cost of Credit
• Know the penalties for missed payments.
• Annual Percentage Rate (APR), interest rates can vary greatly. One card issuer could offer you a 5.99% rate while another could offer you a 21% rate. These rates may be promotional, fixed, variable, and may or may not offer a grace period.
• Know whether you are required to pay an annual fee. Many cards charge annual fees for services that you may not be interested in using.
• Transaction fees are typically charged when completing a balance transfer, making a cash withdrawal, or using a cheque that draws against the account.
• Ensure that you understand your grace period for the account. Oftentimes, your balance is separated by the type of transaction is generated from. Your purchase balance may have a 20 day grace period while cash withdrawals begin to accrue interest immediately.
• Make sure that you understand payment allocation rules for the account. Many credit card companies will apply your payment to the lowest interest rate on your account. For example, if you have a 0% interest rate on your balance transfers and a 15% rate on your purchases, your payments will go to the 0% balance first while the 15% balance continues to accrue interest each month.
• Finance charge computation. Ask your creditor how your interest is calculated each month. If you are not given the opportunity to avoid interest charges by paying in full each month, maybe it's time to start shopping around.
Credit Card Features
• Is your credit limit sufficient for your income level and comparable to other credit lines that you have?
• How widely is the card accepted? Think about the advantages of a major credit card versus a store credit card.
• If shopping for a major credit card, do you want MasterCard or Visa?
• What benefits and features are available?
• Does the card offer a points or rewards program that you can take advantage of?
• Is there an annual fee? If so, what does the card provide for that fee?
Before You Sign Up for a Card:
• Shop around for the best terms. www.consumerinformation.ca is a great resource for finding the best card for you.
• Read and understand the contract.
• Don't rush into signing anything.
• Once a contract is signed, get a copy of it.
• Know what the penalties are if you miss a payment or exceed your credit line.
• Figure out your total price when paying with credit.
• Make the largest payments possible.
Your Credit Rights
Jack Lewis was being hounded by debt collectors about several past due debts. They called him so often at home and at work that he didn't want to answer his phone for fear a debt collector would be on the other end of the line. One debt collector had warned Jack that he could end up in jail if he did not pay what he owed. That comment really scared Jack because he did not have the money to pay the debt collectors and they would not take "no" for an answer. Jack did not want to ask his parents for help because he was embarrassed that he had gotten himself into so much financial trouble. His only option, Jack thought, was to pay off the debts using cash advance cheques that his credit card companies sent him every month. He knew that the last thing he needed was more debt, however, he just wanted to get the debt collectors off his back!
It's too bad that Jack did not know about a law called the Collection Agencies Act. If he did, Jack would have known that the debt collector that threatened him with jail time was breaking the law. Jack was unaware of laws that have been passed to protect consumers when they apply for and use credit, find problems in their credit records or fall behind on their bills. Knowing and understanding those laws is an important part of avoiding problems when using credit and maintaining a credit record in good standing.
Every province has laws and regulations that financial institutions are required to follow. These laws regulate the creditors and protect the consumer.
Each law was created to make credit and finance fair and equitable for the consumer. Together, these laws set a standard for how individuals are to be treated in their financial dealings. To find information on laws and regulations specific to your province, visit www.consumerinformation.ca. The following is a general overview of each act:
The Bank Act
The Canadian Bank Act was first passed in 1871 and is regularly revised and updated. It is a federal law that ensures consumers are fully informed about the cost and conditions of borrowing and that banks are regulated according to how their businesses are organized and run. Banks are required by law to inform you of interest charges and any other costs related to borrowing their money. All specifics regarding loan payback must be disclosed to you a well. This would include prepayment rules, the impact of late charges, and grace period information. All changes in terms of your credit card or loan must be communicated to you in writing as well. Tied selling is also prohibited in Canada. Tied selling is when a company requires you to accept one product in order to be approved for another. For example, a bank may not require you to sign up for their credit protection service in order to be approved for an account.
The Collection Agencies Act
When one is faced with the challenge of overdue bills, accounts that are behind may be sold to a collection agency. Communication is imperative when in a situation where you are unable to meet your financial obligations. Responsible communication is important on the part of the consumer (you) and of your bank. The Collection Agencies Act regulates the practices of collection agencies and holds them accountable for their actions. The act states that you must be notified in writing that you have a debt to be collected or if any legal action is going to be taken to collect a debt. Collection agencies may not contact you in any way that may be perceived as harassment. They may not call you on Sundays or before or after specific hours on statutory holidays. When contacting you, collection agencies must disclose the bank or company that originally held the debt that you owe. Collection agencies are not permitted to contact friends or relatives of yours unless there are provisions on the account that state otherwise. It is very important that you know your rights when dealing with a collection agency. It is also very important that you communicate your situation with your creditors and/or the collection agency. If you have made attempts and you are getting nowhere, contact your local government to file a complaint if the agency is not adhering to the law and then contact Consolidated Credit Canada by calling (844)-402-3073 for additional assistance.
The Human Rights Act
The Canadian Human Rights Act was originally drafted in 1976 and is regularly updated and revised. This act regulates how creditors lend money to customers. It prohibits any form of discrimination from being employed when making credit decisions. This is not just limited to approving an application for credit, but also includes credit line increases, decreases, interest rate changes and any other judgmental decision made on your account.
Personal Information and Electronic Documents Act (PIPEDA)
PIPEDA was established in 2000 and was created to protect the collection, distribution, and storage of the personal information of consumers. This act regulates how banks maintain control over your personal information once they have collected it from you or a third party. It also regulates what they are able to report or extract from your credit report. Banks are required to obtain your consent to obtain your information and must be collecting your information for a reasonable purpose. Banks are only allowed to utilize your information for the purpose that you agreed to. The information obtained or disclosed must be accurate. After your bank obtains any information about you, they are responsible to keep your information secure. To ensure your information is kept safe, banks must allow their processes and procedures to be inspected by regulatory companies.
---
About Consolidated Credit Canada
Consolidated Credit Canada is a consumer-oriented, non-profit organization . We are an industry leader in providing credit counselling and debt management services. Our mission is to assist individuals and families in ending financial crises and to help them solve money management problems through education, motivation, and professional counselling. Our organization is funded primarily through voluntary contributions from participating creditors. Our programs are designed to save our clients money and liquidate debts at an excellent rate.
We are dedicated to empowering consumers through educational programs that will influence them to refrain from overspending and abusing credit cards, as well as to encourage them to save and invest. Regardless of whether your financial problems are due to the purchase of a new home, the birth of a child, major illness, or any other circumstance, we can help.
* If you are headed for a debt disaster visit www.ConsolidatedCreditCanada.ca or call (844)-402-3073 for free professional advice by a trained counsellor.