This Christmas shopping season, a survey conducted by Deloitte Canada reported that each Canadian household plans to spend $1520 each this holiday season. But you don't have to be one of those people. If you have debt or just want to cut back on spending, you can experience happy holidays without going broke. And we're not talking about Black Friday or Cyber Monday.
The perfect gift does exist, but it doesn't have to come from under a Christmas tree. If you find yourself at odds this time of year, we can teach you how to handle the holiday season while staying within budget.
If you seek ways to stretch your dollar, make extra cash, deal with stress, or host guests, we have a few secrets you can employ over the holidays. Review our Christmas shopping tactics and tricks below and enjoy Christmas on a budget!
Plan as Early as Possible
Realistically, people don't start thinking about holiday shopping until the last quarter of the year. Set up a Christmas calendar or a Christmas Budget worksheet to organize your plans throughout the year. Take advantage of Boxing Day Sales! If you employ the logic below, you'll be in great shape when the season creeps up.
Make a list and check it twice
Make a list of everyone you hope to buy gifts for, family, friends, co-workers, or hairdressers. After a few days, check it again. Determine if you can put people on a "maybe" list or just eliminate them altogether. Talk to the family, you might agree that only the children will receive Christmas gifts.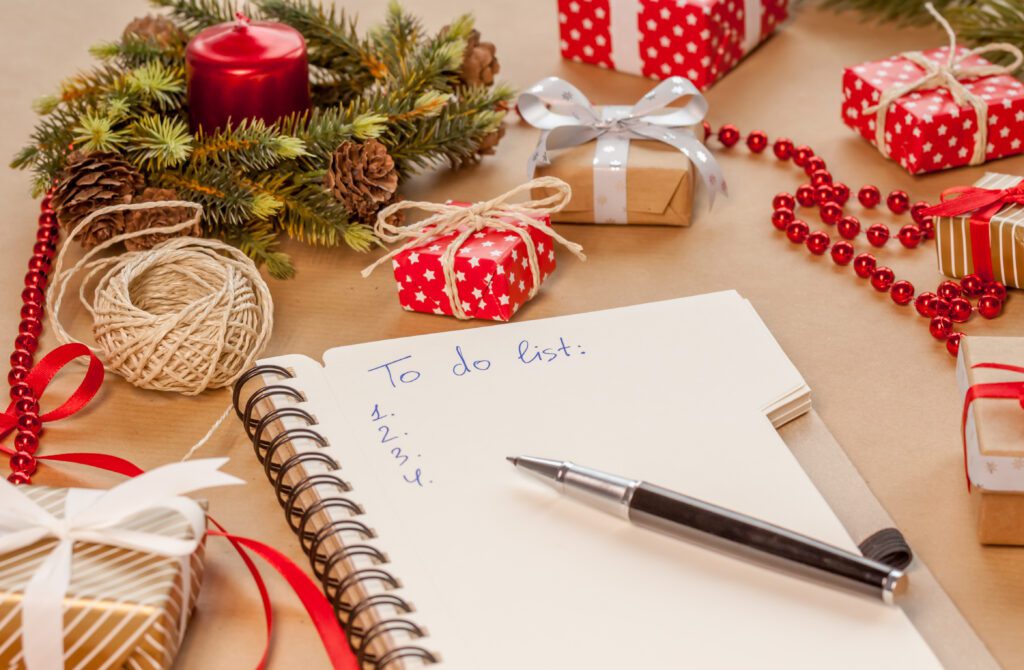 Create a budget and DON'T add to it!
Once you know who you have to buy for, set a dollar amount to each name and stick to it. You could have tiers for gift giving or set a limit family-wide. Don't forget to plan for Christmas dinner, the tree, decorations, travel expenses, and shipping.
The Holiday Spending Planner in the Holiday Survival Guide is a great way to stay organized. Now that you know how much you want to spend, you can start saving. Start a Christmas calendar to track your savings goals. Divide your total needed budget by the number of pay periods you have till Christmas.
This will tell you if your shopping within your means or you may need to cut back. Add other important financial information to the calendar to make sure you are staying within your family budget.
Cash rules everything
One way to stay on top of your budget is to pay cash or debit for everything. You've been saving all year and hopefully, you met your savings goal. Now the fun part, Christmas shopping. Remember, once the cash is done, so is your shopping.
So make sure you have it planned well. You could also shop all year, avoid the mad Christmas rush and stress that goes along with it.
Keep an eye out for sales and ask for price matching. Have your list available and when you see something you like, buy it and cross off the name. Make sure to keep receipts and know the return policy.
Let's talk about safe plastic
If you must use your credit card, create a plan to pay it off within 30 to 60 days. If you take longer to pay off your credit card debt, your holiday purchases will end up costing you more in interest and fees. Don't get lured in by store card specials, they usually cost more in interest to be worth the initial discount.
Learn from the past
Now is the time to learn from your past finance discretions. Review your credit card bills or bank statements from the last holiday season to see where you overspent.
Make Your Money Go A Little Further This Season
Are you lacking the green to fund this white Christmas? Below are some unique ways you might not have thought of for you to get more mileage out of your finances.
Save your change in a jar starting at the beginning of the year. Don't be too proud to pick up change you see on the ground, too. Every little dime counts and can help you pay for Holiday gifts!
Sell your old belongings in a yard sale, Craigslist, or other app. It's a great way to get rid of items you are no longer using to make money for new purchases. Bonus, it makes room for anything you may get.
As the holidays approach, don't be afraid to ask for a discount. You never know who will be accommodating, especially as holiday cheer spreads around.
Look up do-it-yourself Christmas gifts on the internet for some great ideas. Baking, sewing, building. painting, or even plants, make a unique, thoughtful and personal gift.
The dollar store is great for cheap stocking stuffers.
Update old family photos for a sentimental gift for a family member you might not see very often.
Recycle your old gift boxes and ribbons to save yourself from buying new ones. You could also have a pre-used gift exchange with your friends to recycle old treasures.
Save up on rewards points and redeem gifts rather than buying them.
Avoid impulse purchases by comparison pricing to get the best deal.
Festive gift baskets are a great way to spread the cheer and a buck. Buy in bulk and add homemade items like cookies, mason jar mixes, or ornaments painted by the kids.
Have the kids make the decorations for the table. Save money and keep them busy while you help Santa wrap presents.
Find your stash of gift cards and use them to buy presents or groceries for your holiday meals.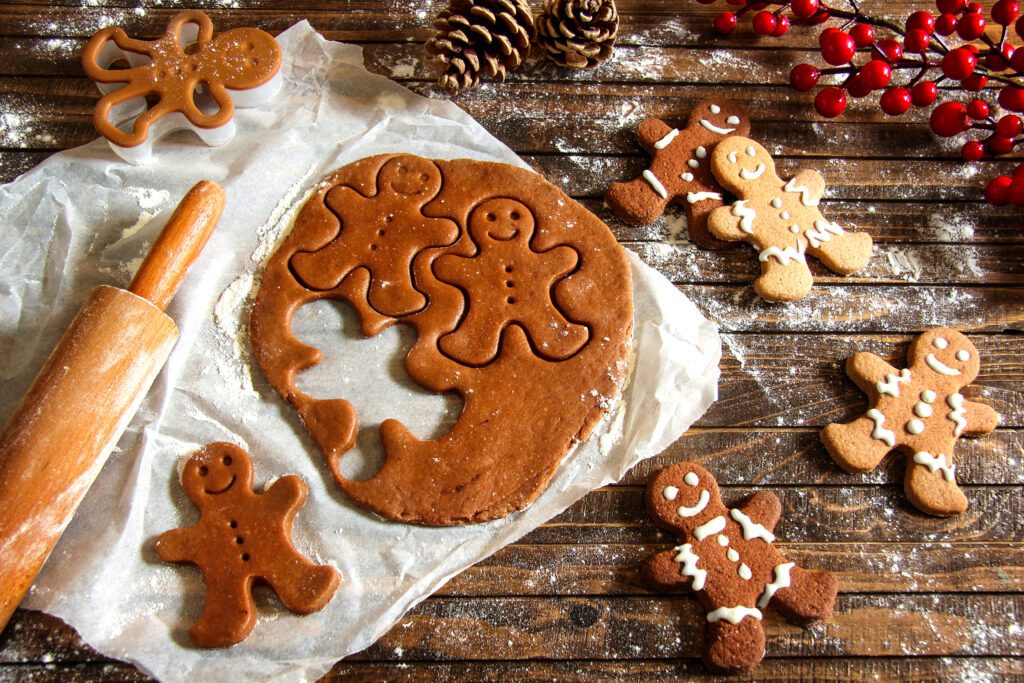 Increase Cash Flow for The Holidays
If stretching your dollar isn't enough of a strategy, making extra cash is another approach to consider. Below are just a few ways you can earn extra money for gifts and events.
Apply for seasonal work
Have you been given the gift of gab? Your love of talking can be the perfect skillset for a seasonal sales associate position. Now is a high season to make some extra cash working as a sales associate.
Love to bake or craft?
Take your passion to score some extra cash this holiday season. Your friends, co-workers or neighbours may need your baking, cooking, or knitting skills. Spread the word of your services so friends and family can hire you to make baked goods or custom gifts like scarves or stockings this time of year.
Your love can help someone else who may not have time to bake or can't afford the inflated prices of various holiday favourites. Or provide a custom gift for that hard to shop for uncle.
Get rid of your gift cards
If your wallet is filled with gift cards you don't plan to use, put them up for sale. You can either post an ad on Kijiji for free or make an announcement on Facebook to your friends.
Freelancing and Odd Jobs
Do you have any hidden talents? You can put your talents to good use during the holidays. Freelance jobs range from writing, ride sharing, graphic design, photography, and more. Save all your freelance income for the holidays and emergencies.
There are many odd jobs that don't require high skill levels. Consider babysitting or dog walking. Search your local neighbourhood for postings or look online for help wanted.
Enter contests
You never know if 2 minutes signing up for a contest could get you a cool prize or even cash! Like our #100Days100Ways contest where you get the chance to be eligible to win a $100 gift card and get some cool holiday budget tips each day! Check online for your favourite retailer or food companies who are having giveaways.
Last Minute Gift Ideas
Have you neglected to get anyone gifts? Below are some easy suggestions for last minute gifts that won't bust the budget:
Give the gift of you (FREE) – Think about services that you can provide your loved ones:
Snow shovelling
Cooking a meal
Grocery shopping
Babysitting
Give experiences, not things ($15 – $30) – Websites such as Groupon offer huge discounts from local businesses on everything from Yoga lessons to Escape Rooms. Spend less, avoid the malls, and give an unforgettable experience that might spawn a new hobby.
Start a family cookbook ($15-$20) – Call up some aunts, uncles, and grandparents and learn some family recipes. Collect them all in an inexpensive photo album but don't feel like you need to fill it – empty pages will allow it to be updated year after year.
Take the photo frame to a new level ($20-$30) – Photos are a great last-minute gift idea, but they are better when you make your own frame. Go to a craft store and get a plain wooden frame, buy some chalkboard paint, and create a frame that is truly unique.
Knit ($15-$20) – You don't have to be an expert knitter – lucky for you, a scarf is one of the most basic items to make. Choose some interesting yarn and get to work. If it doesn't come out perfectly straight, that's OK – it'll give you something to laugh about!
Charity ($ up to you)– If you like to give to charity during the season, make the donation out in someone else's name. You can pick one that they may be interested in like art or elephants.
Hosting Over the Holidays
Save money, even when you expect visitors! Whether you are hosting a holiday party or Christmas dinner make sure you stay on budget.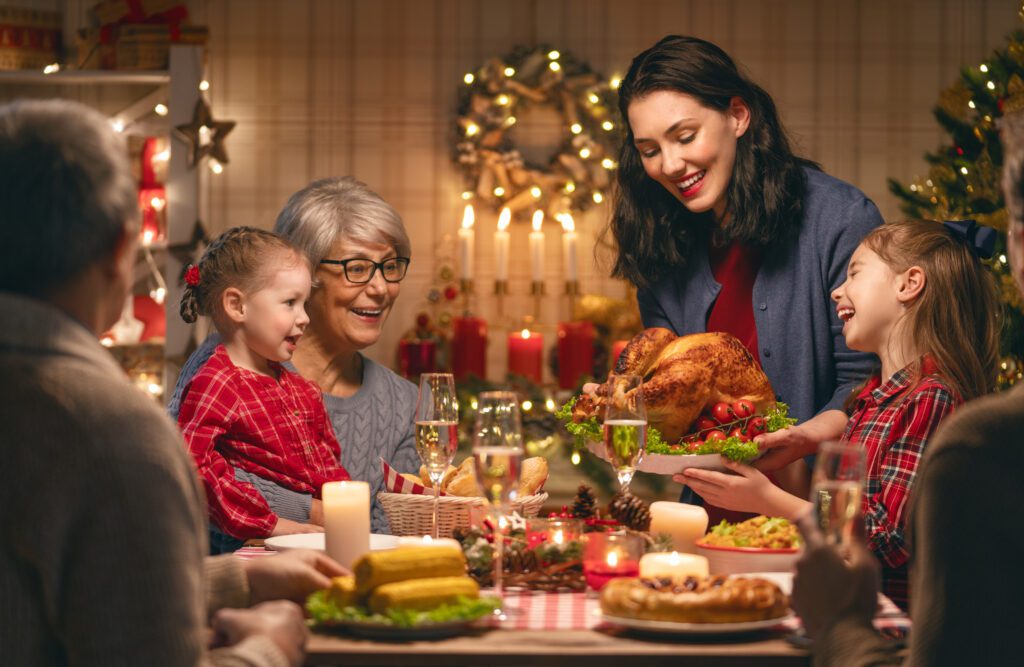 Watch the clock
If you are planning a holiday get-together aim for mid-day, rather than an evening soiree. People eat and drink more in the evening then they do earlier in the afternoon. Brunch fare is generally more pocket-friendly because it features eggs, bread and fruit. Plus who can say no to festive cranberry mimosas?
Share the load
Make your event a potluck. People are usually more than happy to be able to contribute something. Make it more fun by including a theme- guests love to bring one of their favourite dishes from when they were growing up.
Request that guests BYOB. Alcohol is a major cost when it comes to entertaining.
The long-term visitor
Do you have family staying with you over the holidays? You've probably spent a lot of time deciding where everyone is going to sleep, but spend time menu planning too. Account for breakfast, lunches, dinners, and snacks.
Yummy breakfast casseroles feed a crowd and are quick to make, so you can spend more time with your guests. Break out that crockpot for some cheap, long-lasting meals. Consider skipping meat altogether for a few less expensive meatless options.
Holiday Travel
If you plan to travel for the holidays don't forget to add this into your holiday budget. Because it is one of the busiest times of the year to travel, airfare to hotel prices can jump a lot. Don't forget to add entertainment and food expenses too. Check prices early and often.
Sometime if you contact the hotel or airline directly they will price match or be even cheaper than the online agencies. Look into bundle packages that include travel, lodging, and entertainment. Don't be afraid to ask for discounts if you are travelling with a large group or seniors.
Dealing with Stress
The stress of the holidays can get the best of you. Try to go with the flow and remain zen, but, if you need a break from it all, take it. Make sure to set time for yourself. Better yet, share the workload amongst the entire family.
Remember, it's all about being together, not having stuff.
Centralize your shopping
Consider shopping on a single day. Take a day off work to dedicate to your shopping. Otherwise, you can take a day to place all your orders online at once. You are less likely to stray from your budget with impulse purchases.
Be okay with saying "no"
There is no rule that says that you have to attend every holiday party or event that you are invited to. Not only is holiday party-going a source of additional expenses, filling up your calendar can create stress as well. Don't underestimate the mental health value of downtime.
Maintain Balance
Diet, sleep and exercise all seem to go by the wayside during the busy season, which only creates more mental stress for you at the end of the day. Stick to your regular routine as much as possible. Try meditation or practising gratitude daily.
Talk with close friends or therapists
The holidays can be a tough time for people, especially if you are struggling with grief, loneliness or other emotional problems. The temptation to spend in order to fill an emotional hole is strong. If you feel vulnerable emotionally, you may be vulnerable financially. Stop this problem before it starts by making sure that you are connecting regularly with support from family, friends, or professionals to help you through the season- debt free.
Volunteer
Volunteer your time by feeding the homeless, collecting donations for organizations, or any other way to spread joy. Service is a great way to lift others up and feel better. It's also a great family activity to promote the true reason for the season, goodwill toward mankind. It's nice to open a great you have been wanting but bringing joy lasts for much longer.