The winner
Congratulations to our 2023 First-Half Scholarship winner, Sydney Robertson from Dundas, Ontario! Check out her winning response below.
Many thanks to all those who sent in entries!
---
Our scholarship essay prompt
Sydney's response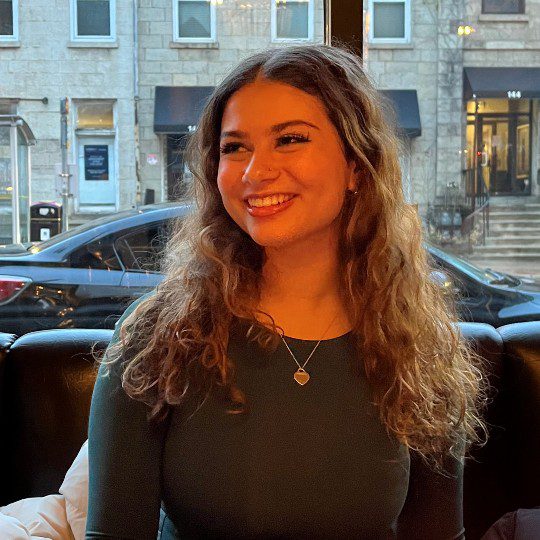 Navigating inflation with kindness
"And then he threw the walnuts at me because they were a few cents more than they used to be. A few cents." My friend texted me in tears from the back room of her job at a grocery store. "Is that seriously what it costs?" has become a nightly occurrence for me as I ring up customers. My journey with increasing prices has not been an easy one- we have entered a new pandemic, an inflation pandemic, and while my experience with it has had monetary costs, inflation has taken much more from me than money.
From extra shifts to verbal abuse, the costs accompanying societally deemed "lower" work take a mental and physical toll on our front-line inflation pandemic workers: the minimum-wage working class. Picking up another shift at work to try and make a dent in my tuition has cost me valuable time for my studies and family, having gone days without seeing my parents due to the number of hours I was working. I have spent my sanity and pride on verbally abusive customers upset at prices I cannot control. This rightful anger at inflated pricing continues to infect consumers, who wrongfully blame the "lowest" tier of employees. Companies themselves allow this mistreatment, even furthering the impact of their pricing choices by reducing staff discounts or salary increase opportunities to save a quick buck. Everything has a cost. How much do you think that saved quick buck costs those it affects?
Lower-income employees are not only disproportionately affected by inflation in non-monetary ways, but they are also disproportionately affected by inflation as a consumer. Purchasing necessities such as food and toiletries can cost most of a paycheck- even before rent, transit, etc. These things cannot be forfeited or substituted for cheaper options- there is no alternative to necessities. The idea that our current minimum wage could suffice as a living wage is not possible anymore, and that is where the biggest problem with inflation lies.
As a consumer, I try to be a frugal shopper- especially with rising prices. I shop sales and save/invest part of my paychecks, except for when it comes to others. The best piece of financial advice I have is ultimately, money buys you freedom, nothing more, including the freedom to make other people realize that they are meaningful to you. Save on the name-brand ibuprofen and spend on the sweet sixteen gifts. Showing those you value their importance will forever be worth the cost.
In the future, while navigating inflation, I will continue to price-match, save and invest, and make sure those I love know I care about them. That being said, the biggest thing I will take with me may sound cheesy, but it is being kind. Be considerate to those who serve you, those waking up early to make your coffee, those delivering food to your house, and those ensuring you find your size in your new shirt. Email a manager about a raise for that stellar employee you had. Tip well if you have the means. Being kind may not offset interest rates or price increases, but it makes life more bearable for those most affected. Yes, that is seriously what it costs.
---
Learn more about our ongoing scholarship awards and how you can enter to win.