Valerie S. overcomes her mountain of debt
Valerie was a working mom with a career where she managed money on a daily basis. She worked in the payroll department as a manager. She had a strong financial background and she took pride in being accountable, she did not have to depend on anyone to manage her household bills.
One day Valerie's life changed forever. Valerie's husband asked her to give up her full-time job so she could stay at home to raise their 5 children. Valerie was reluctant to give up what she loved as she enjoyed her full-time job however her husband wanted to be the sole breadwinner of the family. Keeping with her husband's wishes, Valerie stepped away from her nice income to become a stay-at-home mom.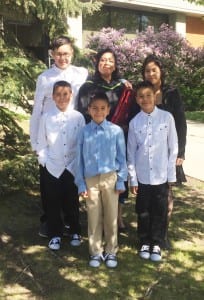 What appeared to be a good idea at the time, created an avalanche of problems for Valerie and her husband. Valerie's marriage ended and she was forced to figure out how to manage her finances and raise her 5 children. While trying to come to terms with her new marital status, Valerie got caught in the payday loan cycle. She became depressed, frustrated and felt like there would be no end to the collection calls she kept receiving. However one day, she heard an ad on the radio for Consolidated Credit Canada and she was in complete disbelief. She had no idea there was help available for her. She called Consolidated Credit and spoke to a trained credit counsellor and immediately she felt a sense of relief.
Once Valerie joined Consolidated Credit's Debt Management Program, she was able to make smaller lump sum payments which went to her principal balance of $16,000 instead of large payments going mostly towards her interest. Valerie also learned through credit counselling how to have a firm understanding between needs vs. wants and how to do without her credit card. Now Valerie uses cash to pay for everything and she's passing all of the financial lessons she's learned to her 5 children.
Valerie is optimistic about her future. She is debt free and she enjoys her frugal lifestyle to the fullest. Despite all of the obstacles that once stood before her, she recently graduated from a post-graduate program and now she aspires to become a financial advisor. She is passionate about helping other families overcome their struggles with debt as she understands firsthand what a heavy debt burden can do to a family.
If you have a mountain of debt and you do not know where to turn, let Consolidated Credit help you to erase your debt. You can start today by calling us now at (844)-402-3073 to speak to a trained credit counsellor. Debt is too stressful to get rid of on your own. If you are tired of trying to stay on top of your debt, contact us today.