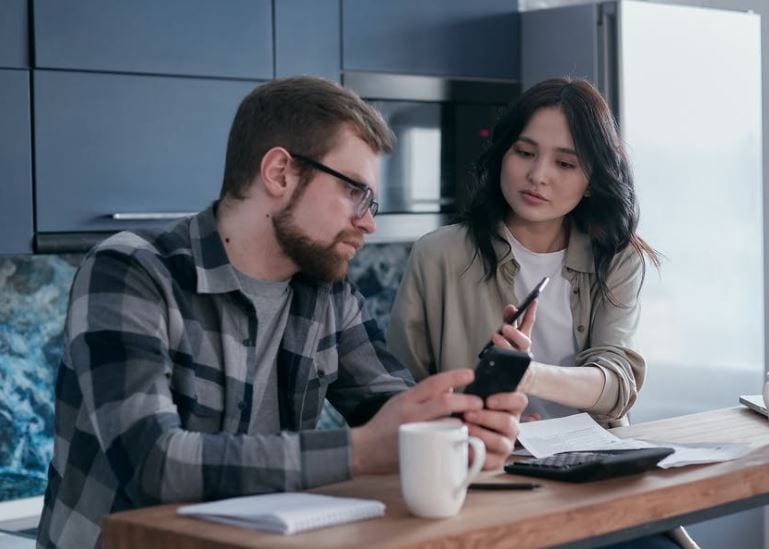 Financial literacy wasn't part of the curriculum that most of us were taught in school. What then happens? We're thrown into the real world without the tools and resources needed for financial success. For some, that means developing harmful spending habits that lead to debt.
Recent credit card statistics tell us: 
The average Canadian has $2,627 in credit card debt
89% of Canadians have at least one credit card
The two leading categories for credit cards use are personal attire (64%) and durable goods (58%)
Buying items that fall outside of the "basic amenity" category isn't bad—it becomes problematic when you spend beyond your means. Tricia is one of many who suffered the consequences of spending outside of her budget.
Do you have a spending problem? Credit Counselling can help!
It began with impulse spending…
People often make the mistake of thinking credit cards are free money. This can lead to a spending problem where you purchase items you don't need. Not only do you end up paying back what you spent, if you don't clear your balance by your payment due date, you may also be stuck with interest payments (unless you're spending during a 0% APR period). Without paying more than the minimum payments required, you could see your debt steadily increasing.
"I spent recklessly," Tricia recalls. "I didn't buy many big-ticket items, but I would buy all kinds of clothes and electronics when I went shopping—and the debt slowly built up around me."
5 maxed out cards later, Tricia sought help…
Some people indulge in emotional spending, which is when you purchase things you don't need, hoping it will help you feel a certain emotion.
For example, an emotional spender might go shopping to self-comfort when they're sad or to enhance their mood when they're happy. Some people also shop out of fear of missing out (FOMO). In Tricia's case, shopping became a hobby.
"I was nearly $15,000 in debt, just from buying things that I didn't need," Tricia said. "I would go to the mall almost every weekend when I should have busied myself doing something else. It became my recreational time."
To help her get out of debt, Tricia sought help from a local financial institution.
Tricia became debt-free, but wasn't free from her spending problem…
Although Tricia successfully paid down her debt, her local financial institution didn't give her any financial advice on budgeting and money management. As a result, she ended up right back where she started.
"I never really stopped spending when I paid down my debt the first time," Tricia says. "I really didn't learn my lesson and spending money on credit cards was just so easy for me."
By the time she realized she had a problem, she set her finances ablaze…again
Four years later, Tricia once again found herself hopelessly in debt. She was 26 years old, working data entry at a trucking company, and had nearly $25,000 credit card debt. She owned credit cards from Visa, Sears, two Future Shop cards, and a Canadian Tire card for her car.
"When I went shopping, a little voice in my head would say, 'Don't buy that,' but I wouldn't listen," Tricia says. "And the next day, when it all set in and I realized what I did and how much I spent, oh my gosh, it was terrible."
Tricia went looking for help again.
Consolidated Credit helped her put out the fire…
One day, she was watching TV and came across a Consolidated Credit commercial. She took a chance on them hoping it would be a viable option for debt relief. Tricia's gut instincts were right, and she began the process of consolidating her debt.
"The people at Consolidated were so friendly and helpful from the very start," Tricia says. "They consolidated part of my debt like I asked, slashed my interest rates, and provided me with one easy monthly payment that I could afford."
Thankfully, the second time was a charm…
After five years of paying down her debt, 31-year-old Tricia finally graduated from Consolidated Credit's debt management program. But she did more than pay off her debt; she developed better spending habits. The spending problem that had her in a vicious cycle is no longer an issue.
This marked the beginning of a new financial chapter for Tricia…
"Consolidated helped me become a better money manager," Tricia says. "I took advantage of the tools they offered and the advice they gave about budgeting—and I stopped using my credit cards. It was a wonderful experience."
Now Tricia avoids the malls and shopping centers. Her credit and finances are better because of it!
"I busy myself doing other things besides shopping," Tricia says. "Out of sight, out of mind, I guess."
Become a Better Money Manager, Too!
If you're struggling with debt because no one ever showed you the right way to manage your money, we can help. Consolidated Credit has the resources that can help you understand how to be successful with your finances. Nip your spending problem in the bud now.
Call Consolidated Credit today at (844)-402-3073 to speak with a trained credit counsellor or get started now with a request for a Free Debt Analysis.