Paying for School with Credit Cards
With the price of education on the rise, it's no surprise that many students and their families are in debt trying to fund post-secondary education. While many take out student loans, it sometimes isn't enough. To cover the costs, some end up paying for school with credit cards, which leads to excessive credit card debt.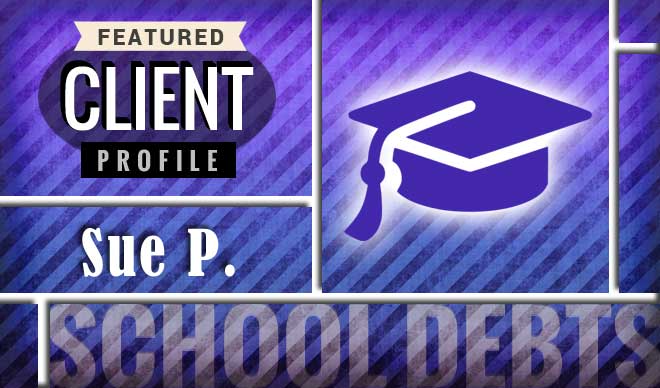 In this exact situation, Sue turned to a trained credit counsellor to get out of debt faster. Here's her story.
Student loans couldn't cover all their expenses
Sue didn't initially turn to credit cards to pay for her daughters' educations. "Both of my girls applied for student loans and held down part-time jobs – sometimes more than one," she said "But you never get what you need from student loans. If you're making money, your eligible funds go down. In the end, it wasn't enough."
Post-secondary education in Canada doesn't come cheap. According to an article by Knowledge First Financial, the average one-year cost of university in 2019/2020 was $21,110 for those in residence. For a four-year program, the cost totals up to around $84,440 – per student.
In a financial bind, Sue turned to credit cards to cover costs that the student loans didn't cover. However, with the balance so high, they were only able to afford the minimum payments.
Then, a TV ad changed everything
After seeing an ad for Consolidated Credit on TV, Susan and her daughters decided it was worth a shot.
Consolidated Credit provides free credit counselling to help consumers find a solution that is customized to their unique situation. This process starts with a free evaluation of an individual's budget, debt and credit to determine the best debt solution for their needs.
For those that have excessive debt or poor credit, counsellors may recommend a debt management plan. It consolidates bills into one affordable payment reduces or eliminates interest charges, so it's possible to pay it off faster.
Calls from creditors stopped too
Another advantage of enrolling in a debt management program is that it shows creditors that you are serious about repaying your debt. The credit counselling team becomes your advocate for dealing with creditors. Creditors can contact Consolidated Credit with any questions they may have.
"Now I'm not worried every time the phone rings, and I am able to do things without too much worry about paying my bills," Sue says.
Valuable financial lessons learned
Fast forward into the future, and Susan's daughters have graduated. Now with stable jobs, they both have student loan payments at approximately $500 per month, but have budgeted accordingly to make those payments and not get into the wrong kind of debt. Susan attributes their responsible behaviour to learning from her experience with credit cards.
"It's all too easy to charge, and interest rates are way too high to carry a balance," Sue says. "I also learned to have an actual
budget, and stick to it."
Now debt-free, Susan is grateful for Consolidated Credit. "I am and always will be thankful to your organization," she said. "
Debt is a slippery slope and people need to be better educated."