What to Do When Variable Income Leads to Credit Card Debt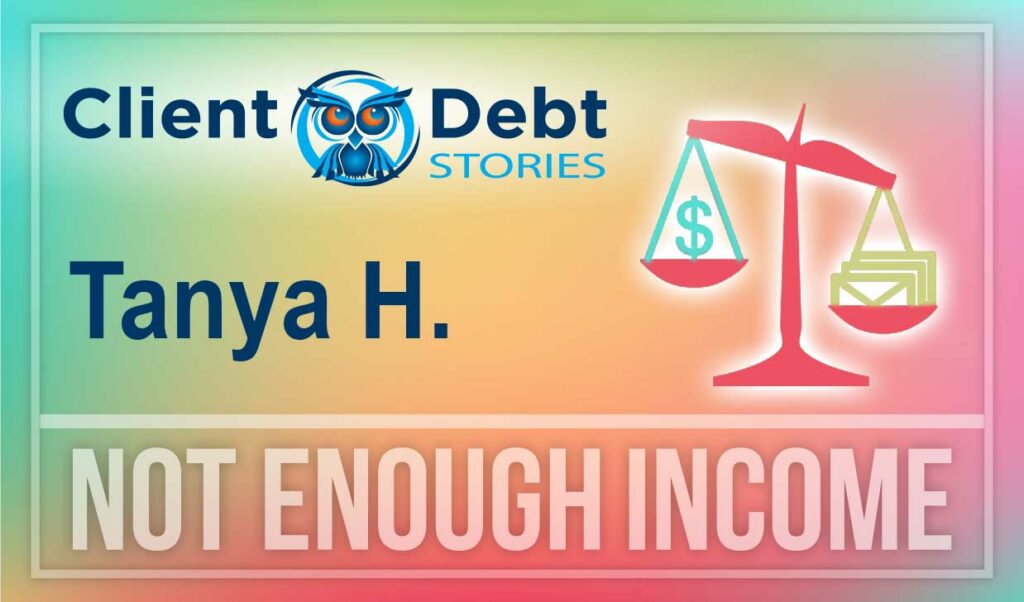 The average Canadian that finishes university with a bachelor's degree has a student loan debt of just over $26,000. Many graduates, even those with full-time positions, have difficulty making their student loan payments. It's even more challenging for those who can't find full-time employment. As a result, they are forced to rely on credit cards to cover daily expenses.
Like many college graduates, Tanya was not able to find full-time work right away. Working odd jobs meant she was challenged with variable income while trying to make her student loan payments. As a result, she was forced to add credit card debt to her student debt, even using her credit cards to cover her loan payments. This is Tanya's story…
Tanya's debt problems started when school ended…
"Debt became a problem when I graduated from university. So I moved across the country and started working at a temp agency, but I could only count on earning money a couple of days a week," Tanya explains. "Then I started working in social services, but due to budget cuts, I found myself working part-time.
As of 2019, over 40% of Millennials in Canada were gig workers, according to Statista.com. Additionally, almost one in five Canadians worked part-time, a marked increase from one out of ten a few decades ago. 
While 'gigs' can offer freedom and independence, this type of work isn't exactly known for stability. A part-time job can be more stable but rarely provides the salary levels of a full-time position. As a result, many young university graduates become gig workers or use temp agencies and become temporary employees when they cannot find full-time employment.
The uncertainty of variable income makes it difficult to budget and cover obligations like loan payments. Tanya was borrowing on her credit cards to cover her student loans, something which never turns out well.
Tanya struggled for years before deciding she needed help…
"I lived with debt off and on for about six years before calling Consolidated Credit," Tanya continues. "It was an extremely stressful time in my life. I had to choose which bill to pay and which to ignore. And I could only afford to make the minimum payments, so the interest started building up to higher and higher.
Tanya IS not alone. The 90-day delinquency rate, where credit users have missed three or more payments, went up 10% from 2019 to 2020 in Canada. More and more, Canadians are living at record-high debt levels that they often can't afford. Many are having problems paying off debt, those with variable income.
She found Consolidated Credit, and it fit what she was looking for…
The Financial Consumer Agency of Canada outlines the steps people should take to become debt-free. It includes:
identifying your debts
reviewing your budget
choosing a repayment plan
consolidating existing debt
avoiding new debt
knowing when and where to get help
This is excellent advice, but faced with uncertain income, Tanya struggled to get ahead of her debt on her own. And with variable income, she had trouble getting approval for a debt consolidation loan. She knew she needed help and did some research to find Consolidated Credit.
"I tried to get a line of credit through my bank and was rejected. Then, I found Consolidated Credit through a Google search. It was exactly what I wanted—an organization that was non-profit and had a good reputation."
Consolidated Credit saved her from bankruptcy and collection calls…
"If Consolidated Credit hadn't accepted me, I probably would have filed for bankruptcy. I thought I had no other choice," Tanya says.
A debt management plan put her on the road to financial freedom
When Tanya called Consolidated Credit, a trained credit counsellor helped Tanya understand her situation. Then, they created a plan based on her goals, timeline, and income uncertainty to find a way she could afford regular payments.
"After calling Consolidated Credit, everything moved very quickly. I spoke to a credit counsellor and started the program right away. The payment schedule I was put on was manageable, and my monthly payment was significantly less than what I was paying to my creditors when I was doing it on my own."
Consolidated Credit also contacted Tanya's creditors, working with them to minimize the interest rates applied to her balances. That way, Tanya could finally focus on paying off the principal—the actual debt she owed.
Tanya learned some tough lessons about debt and her finances…
"This was definitely a valuable lesson. I feel like a weight has been lifted off of me. Before I eliminated my debt, I just buried my head in the sand and ignored collection calls and letters. I didn't have a budget or know where I was spending my money. I was constantly borrowing from friends or family."
Along the way, as Tanya worked to pay off her debt, Consolidated Credit's team offered resources and advice to help her develop better financial habits.
"It took a while to break my spending habits, but it gets easier each day," Tanya explains. "I'm happy that I don't feel stressed and embarrassed like I did before calling Consolidated Credit. I have a budget, and I stick to it."
Are you like Tanya?
Tanya's story is not unique. So many Canadians face financial challenges because of gig work, temp work, and variable income. That's where Consolidated Credit comes in. If you can't keep up with your credit card payments and your balances are too high, reach out to speak with one of our trained credit counsellors. The call and the advice are free.
Are having trouble with debt because your income isn't stable? We can help.